Music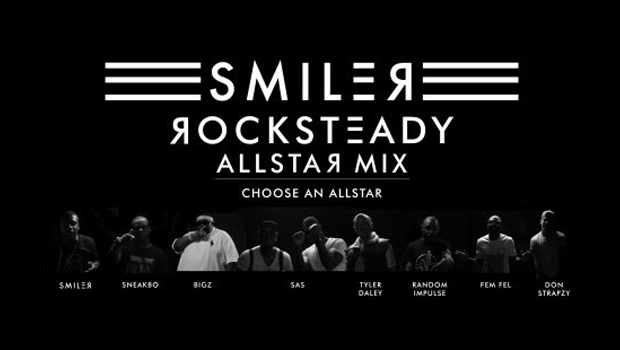 Published on July 18th, 2012 | by Denny Armatrading
0
Smiler brings the stars out for Rocksteady remix
The music is soulful and synthetic, the imagery near biblical: together they have some force." – The Guardian
"We look forward to connecting with even more of Smiler's emotive music this year." – RWD
"Set to establish himself as one of year's most vital new talents." – Lime
South London rapper Smiler is fast becoming one of 2012's biggest breaking new talents following the reception greeted to his current mixtape 'All I Know' which received thousands of downloads on the day of its release. Now Smiler's ascension continues with the June 11th release of his Warner Bros. Records single 'Rocksteady'.
Produced by Jamal Hadaway (Labrinth, Lethal Bizzle), the heavily rhythmic 'Rocksteady' bounds with boisterous beats which accompany Smiler's ultra-confident lyrical flow and features Sneakbo. A second all-star version of the track again features Sneakbo, this time alongside Don Strapzy, S.A.S., Shotty Horroh, Random Impulse, Tyler Daley, DVS and Bigz.
Smiler has already become a mainstay at 1Xtra where his tracks have been playlisted for a total of over 20 weeks, with 4 of those weeks on the A-list, while further radio support has been provided by Radio 1's Zane Lowe who named both Smiler's track 'Spender' (which includes additional vocals by Lana Del Rey) and Smiler's guest appearance on Jakwob's 'Right Beside You' as his Hottest Records of the Week. Tracks from the mixtape have also been played by Huw Stephens at Radio 1, Mistajam at 1Xtra, DJ 279 at Choice, and DJ MK and Shortee Blitz at Kiss. Zane Lowe also named Smiler's single 'Delorean' as his Next Hype.
Named alongside Nicki Minaj as one of NME's Top 5 Rappers, Smiler has also been featured in a diverse array of publications including The Guardian, The Daily Star, RWD, Pride and Lime.
In the live arena, Smiler proved to be a popular addition to this year's MOBO tour (during which he created a tour diary for Urban Development) and was then personally invited by Professor Green to join him on his full UK tour which culminated with a major London date at Brixton's O2 Academy. Smiler also toured with Wale.
Professor Green is just one of the many artists that have recognised Smiler's undeniable talent. Green and Tawiah both guest on Smiler's track 'Top of the World' which will be released late in the year. Opening with 'Delorean' which features Wretch 32, the 'All I Know' mixtape also highlights the talents of Bigz and Crafty. Lady Leshurr contributed to an alternative version of 'Delorean', while Smiler's interpretation of 'Spender' also included additional vocals courtesy of Lana Del Rey.
Vitally, Smiler is also connecting with an audience as his fast escalating online profile proves: his YouTube channel is approaching 500,000 views, he has 8,000 likes at Facebook and a further 10,000 Twitter follows, while his Soundcloud page has received 36,000 plays.
Smiler is an artist for whom doing things his way is vitally important. Years of self-promoting his music has created a fiercely independent spirit – what other rapper could reference Amir Khan, Rihanna's 'Umbrella' and favela flick 'City of God' in a single song and then on the next track address the social issues that inform his environment? Honesty, intelligence and sheer talent are the cornerstones that guarantee that Smiler will be an artist worth keeping an eye on.
Official Smiler website
Smiler Facebook page
Smiler Twitter page
Smiler Youtube page