51st Festival 2022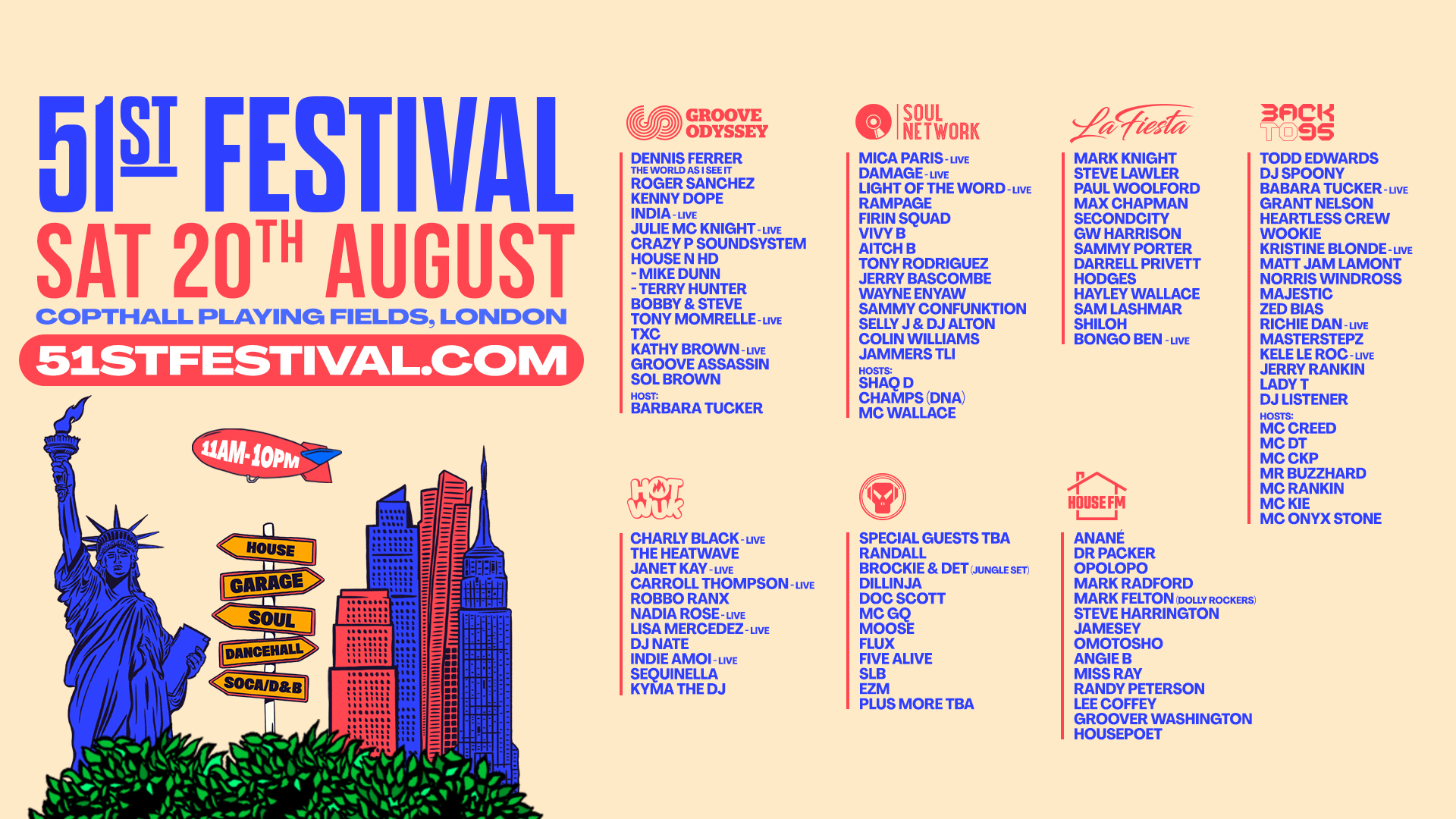 SATURDAY, 20 AUGUST 2022
Copthall Playing Fields, London, NW4 1PS.
Following the success of the sold-out 2021 edition, we are super-excited to announce 51st Festival returns bigger and better for 2022!
51st will open the gates to its new home at Copthall Playing Fields. 20 minutes more central than the previous site, the new location is easily accessible by tube (Mill Hill East on the Northern Line), train (Mill Hill Broadway, 17 minutes from King's Cross St Pancras), bus (Copthall Sports Centre) and by car with plenty of parking available.
With plenty of surprises to come, 51st new site will elevate the festival to new heights and provide its best party yet across seven stages.
51st Festival will once again celebrate the roots of House music, pulling together the threads of this hugely influential sound, exploring classic house, tech house, afro house, garage, disco, soul, dancehall, amapiano, drum & bass and more.
Your favourite pioneers from Chicago, New York, Detroit, London and beyond will be joined by the trailblazers of today. The 51st Festival program is truly transatlantic, joining the dots between the US, the UK, Europe and the Caribbean.
We also have made some great additions to the site including new stage hosts: Drum & Bass pioneering label, Metalheadz, Tech House party starters La Fiesta and London Soul heavyweights, Soul Network.
We have listened to your feedback and will not use RFID wristbands for payments. To reduce queuing times we will be having 90% of the bars as contactless and chip and pin payments, there will be one cash bar in the general admission area. The food caterers and stalls will accept cash and card / contactless.
We are excited to announce the stage split lineup celebrating the roots of House music exploring Soulful, Classic, Tech, Afro, Garage, Disco, Soul, RnB, Dancehall, Soca, Amapiano, Drum & Bass and more!
______________
THE SECOND PHASE LINE UP ANNOUNCE – OVER 100 ARTISTS ACROSS 7 STAGES
Groove Odyssey
Dennis Ferrer (The World As I See It)
Kenny Dope
Roger Sanchez
India – Live
Julie Mc Knight – Live
Crazy P Soundsystem
House N HD
– Mike Dunn
– Terry Hunter
Bobby & Steve
Tony Momrelle – live
TXC
Kathy Brown – Live
Groove Assassin
Sol Brown
Host:
Barbara Tucker
La Fiesta
Mark Knight
Steve Lawler
Max Chapman
Secondcity
GW Harrison
Sammy Porter
Darrell Privett
Hodges
Hayley Wallace
Sam Lashmar
Shiloh
Bongo Ben – Live
Special Guest: Paul Woolford

Backto95
Todd Edwards
DJ Spoony
Babara Tucker – Live
Grant Nelson
Heartless Crew
Wookie
Kristine Blonde – Live
Matt Jam Lamont
Norris Da Boss Windross
Majestic
Richie Dan – Live
Masterstepz
Zed Bias
Kele Le Roc – Live
Jerry Rankin
Lady T
DJ Listener
Host:
MC Creed
MC DT
MC CKP
MR Buzzhard
MC Rankin
MC Kie
MC Onyx Stone

Soul Network
Mica Paris – Live
Damage – Live
Light of The Word – Live
Rampage
Firin Squad
Vivy B
Aitch B
Tony Rodriguez
Jerry Bascombe
Wayne Enyaw
Sammy Confunktion
Selly J & DJ Alton
Colin Williams
Jammers TLI
Hosts:
Shaq D
Champs (DNA)
MC Wallace

Hot Wuk
Charly Black – Live
The Heatwave
Janet Kay – Live
Carroll Thompson – Live
Robbo Ranx
Nadia Rose – Live
Lisa Mercedez – Live
DJ Nate
Indie Amoi – Live
Sequinella
Kyma The DJ

Metalheadz

Special Guests To Be Announced
Fabio & Grooverider
Randall
Brockie & Det (Jungle set)
Dillinja
Doc Scott
MC GQ
Moose
Flux
Five Alive
SLB
EZM
Plus more TBA

House FM – VIP

Anané
Dr Packer
Opolopo
Mark Radford
Mark Felton (Dolly Rockers)
Steve Harrington
Jamesey
Omotosho
Angie B
Miss Ray
Randy Peterson
Lee Coffey
Groover Washington
Housepoet
Tickets: www.51stfestival.com