Bestival Announces Slow Motion line-up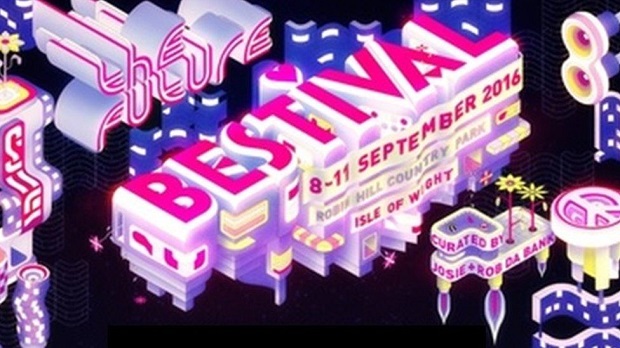 SLOW MOTION COMES BACK TO THE FUTURE
A LITTLE BIT OF YOU TIME:
THE HIDEAWAY HEALERS PAMPER PADDOCK / BATHING UNDER THE SKY HOT TUBS / THE NEW CRAFT HOUSE / PAPER CUTTING WITH POPPY CHANCELLOR
MOVE YOUR BODY:
THE REVOLUTION RIDES / THE HUFFINGTON POST UK YOGA SHALA / SLOW MOTION ADVENTURES
FIND YOURSELF:
THE HUFFINGTON POST UK ZEN DEN / THE ASTRO VILLAGE / MINDFUL DRAWING IN COSMIC ART'S SPACE / BESTIVERSITY
DISCOVER YOUR INNER ANIMAL:
THE NEW SUNDAY BEST MUSIC TENT / CARAVANSERAI /  THE WI TEA TENT / LLAMA KARMA / THE BIRD SANCTUARY
'GET UP AND GO' FOOD & DRINK:
MILGI / MADE BY KRISTA / THE COFFEE CAMPER / THE OBSERVATORY COCKTAIL BAR / THE CRAFT ALE BAR 
PLUS:
THE KIDS' FIELD
The launch pad for a halcyon journey that will help us live our lives more fully, Slow Motion is an enlightened festival within a festival. A serene realm of wellbeing overlooking Bestival's elysian fields, it's a sign post to The Future, giving you a chance to breathe while stepping into a more horizontal escape, guiding you to your own natural euphoria, this coming 8-11 September on the Isle of Wight.
Rob da Bank says: "Slow Motion nailed it in its debut at Bestival last year – and did just what we wanted, providing an alternative space to get away from the hedonism for a while and rediscover yourself and your mates and festival family in a relaxing escape. Everyone loves a big party but we like to look after ourselves at Bestival too, and with everything from the amazing Revolution Rides' spinning raves to meditation, yoga and the re-energising joys of The Hideaway Healers through to full on surfing action and The Huffington Post UK's new Zen Den, this is the place to put the good stuff back in… Then to party!!"
Focusing on the self, head to Bestival's summit and step back from the melee in The Hideaway Healers' Pamper Paddock. Select a therapy to re-energise both mind and body from a choice of Reiki, Shiatsu, Holistic or Thai Yoga Massage, or talk with our team of qualified therapists to tailor a treatment to your needs to give things a bit of shake-up.  Indulge in the decadence of Bathing Under the Sky's revitalising Hot Tubs, which you can book right now, unchain your creativity and oblige your tie-dye yearnings with Hannah and Rosie at The New Craft House and try your hand at some therapeutic Paper Cutting care of Poppy Chancellor.
Cleanse the sins of the night before with The Revolution Rides. Created especially for Bestival and one of last year's biggest hits in Slow Motion, join the power of music with a pedal-powered workout led by all round motivator and Olympic sports coach Tim Weeks. The HuffingtonPost UK Yoga Shala is the place to re-centre yourself with a variety of yoga from Acro to Kundalini, and Hip-Hop Yoga to Voga. This year's yoga programme features an awesome line-up of headliner yogis such as Felix Price and Diahann Holder of the Urban Avatarswho have been brought to us through our friendship with Yoga Connects Festival, Acrobalance with last year's flying superstars Pip & Eugene, and a very special visit from Goldie introducing Yoganster to the yoga massive! You can also head off site for some Slow Motion Adventures with the Isle of Wight's iSurf, who will be leading surf and SUP (stand up paddleboarding) exploits for the more daring Bestival-goers!
Feed your mind and find yourself at The HuffingtonPost UK Zen Den. Brand new for 2016, The HuffPost UK Zen Den is a place for soul searchers and those who want to zone in and enjoy some 'me time'.  Expect gong baths, breath meditation with Michael Townsend Williams from Stillworks, Transcendental Meditation with The David Lynch Foundation, Tai Chi in the woods, as well as chanting and guided meditations to ground, balance and connect.   Divine your future with the mystic arts of astrology and Tarot at the Astro Village. Develop your visual vocabulary at Cosmic's Arts Space, and cultivate your
knowledge at Bestiversity. 
Undertake a spiritual odyssey at the new Sunday Best Music Tent, brimming with our man da Bank's restorative grooves, marvel at the wonder of one of the festival world's most stunning venues Caravanserai, where lounging among the object d'art and repurposed caravans with a delicious cocktail has never been more invigorating, or delight in the simple pleasures of a cup of tea and a slice of cake at The WI Tea Tent. Feel the curiously relaxing contentment of Llama Karma from West Wight Alpacas and wonder at the Island's ultimate birds of prey experience at The Bird Sanctuary with Haven Falconry.
Nourishing the soul is undoubtedly important but don't miss out on divine pabulum and real soul food including Milgi's natural, nourishing and healthy fare, cold-pressed raw juice from Made by Krista, top quality artisan coffee, speciality teas, handmade chai and delicious cakes fromThe Coffee Camper, appetizing cocktails in the eye-opening tranquillity of The Observatory Cocktail Bar, and the honeyed joys of The Craft Ale Bar.
And creating a utopian space for the party people of The Future in Slow Motion's enlightened surrounds, The Kids' Field will be an oasis of activities, experiences, random entertainment and a full programme of theatre shows, circus skills and crafts and games!
It's all good clean fun, so don't miss out on Future festival times at Slow Motion. And, if you missed its debut in the Summer of Love, check out the Slow Motion film and begin to cultivate your mindful awareness.
There are still plenty of treats to be revealed for our Future paradise, including our Sunday night main stage headliners and much more, so head to www.Bestival.net, Facebook, Twitter, Instagram / Tumblr
#Bestival16
BESTIVAL TICKET LINKS & INFORMATION:
www.ticketline.co.uk/bestival-tickets, 0844 888 4410
2016 EARLY BIRD TICKET PRICES – PHASE 2
Adult Ticket (entry from Thursday or Friday) – £190
Adult Premium 'Wild Copse' Camping Ticket – £299 (more info)
Student Ticket (entry from Thursday or Friday) – £180
(For full-time students only. Valid NUS or ISIC ID required at the box office. No other student ID accepted)
Teen (age 13-17) Ticket – £120
Teen (age 13-17) Premium 'Wild Copse' Camping Ticket – £149.50 (more info)
Child (age 12 & under) Ticket – Free (but you must obtain a ticket)
Child (age 12 & under) Premium 'Wild Copse' Camping Ticket – Free (more info)
VIP Ticket (Standard Camping) – £295
VIP Ticket (Wild Copse Camping) – £390
Campervan Tickets – £90 (per vehicle) (more info)
Caravan / Trailer Tent Ticket – £100 (One car only per caravan/trailer tent, no exceptions – more info)
Advance Car Parking – £15
– All Tickets will incur a booking fee
– There are no Day Tickets
– All Tickets incur a £1 donation to the Isle of Wight Youth Trust* (see below for further info)
Weekly Payment Plan
WEEKLY PAYMENT PLAN
Bestival's ground breaking weekly payment plan means you can get yourself a Bestival 2016 ticket for just £12 a week! Spreading the cost across 15 weeks, an initial £25 deposit payment (plus booking fees and p&p), followed by 14 weekly payments of around £12, gets you a ticket for the same price as paying in one go.
This offer is only available online from our official ticket partner Ticketline: www.ticketline.co.uk/bestival-tickets
ISLE OF WIGHT YOUTH TRUST CHARITY DONATION
Once again this year we are adding on a £1 charity donation onto all Bestival tickets. The money raised will go directly to the Isle Of Wight Youth Trust (Reg Charity no. 1087163) to help fund their fantastic work offering counselling and support to young people aged 25 and under on the Isle of Wight. The Bestival Foundation is also a proud supporter of the Youth Trust.