Boomtown, Chapter 11: A Radical City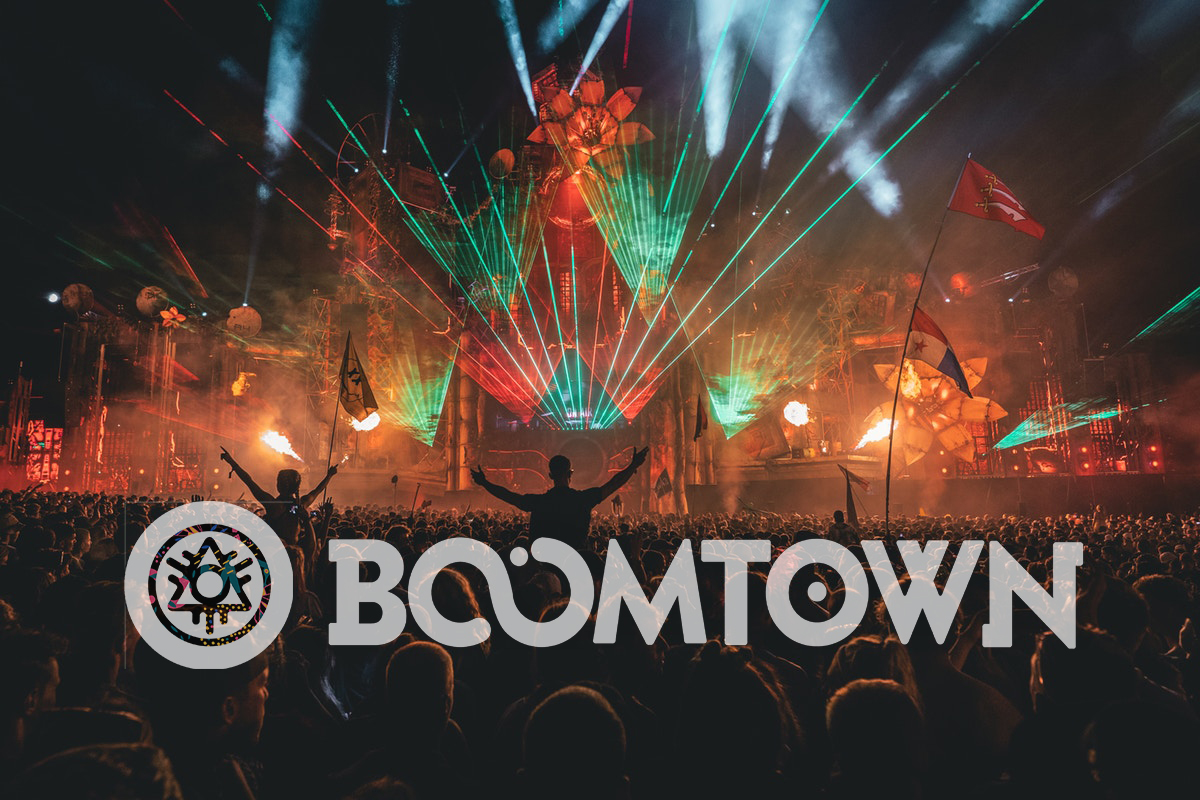 As the gates opened for Chapter 11: A Radical City, there was an undeniable excitement in the air amongst the Boomtown festival-goers. Although the weather continued to unpredictably shift from sunshine to rain, there was no dampen in the spirits of those who began their trek up the first of many hills. With music starting at 2 pm, kicking off with reggae from Earl Gateshead in the Psychedelic Forest, there was a mutual eagerness to quickly set up camp and begin exploring the new city.
Unlike the previous year where there was noticeably less Wednesday attendees, Chapter 11 welcomed double the number of citizens ready to start their 5-day adventure. I found myself calling Barrio Loco my new home, which was conveniently surrounded by a mixture of food stalls, offering both vegan and meat alternatives, and only a short downhill walk from the Hidden Woods. One of four forests, the Hidden Woods saw your feet sink into the sandy floors as you danced under an array of intricately detailed lanterns. Although beautiful in the day, as the sun peaked through the branches, it came to life in the night, the trees becoming illuminated by multicoloured fairy lights, creating a kaleidoscopic space for people to dance freely.
Welcoming Boomtown's first evening, the sun began to set over the fields of colour, with a buzz for Mungo's Hi-Fi's 8 pm set at the Psychedelic Forest. Supplying the sounds of reggae and dancehall, Chapter 11 would not have been the same without them, with the 6-piece production unit from Glasgow regular performers at the festival over the years. A pathway of prismatic lights led the way into the forest, where the bass from the speakers made the floor vibrate beneath your feet. Mosaic décor draped from the trees as strobe lights of yellow, orange and blue lit up the trouble-free, smiling faces of those dancing. Quickly filled to capacity kamagra quality and cheap, there was an unquestionable feeling of unity amongst strangers, as the crowd erupted to the opening sounds of "Did You Really Know".
Mungo's Hi-Fi at the Psychedelic Forest (Image credit: Sophia Mallett)
Thursday greeted 11 hours of music and the opening of most stages, with excitement building for the sets by Deeka B at Tangled Roots, Irritant Sounds at Scrapyard, and Born on Road ft: Inya at Dubtendo. Queen of Pressure saw shoes swallowed into the sandy grounds at their 1 pm set in the Hidden Woods, with the warm weather an appreciated blessing amongst the revellers. I spent my afternoon wandering up and down the hills amongst the various stalls, which offered bright and funky festival wear to both the simple and the more outrageous. For many, Boomtown is a yearly event where self-expression prevails, as there are no rules on what you should wear and who you should be. Every chapter, the outfits become more elaborate and exotic, and a reflection of the festivals ethos to create and inspire.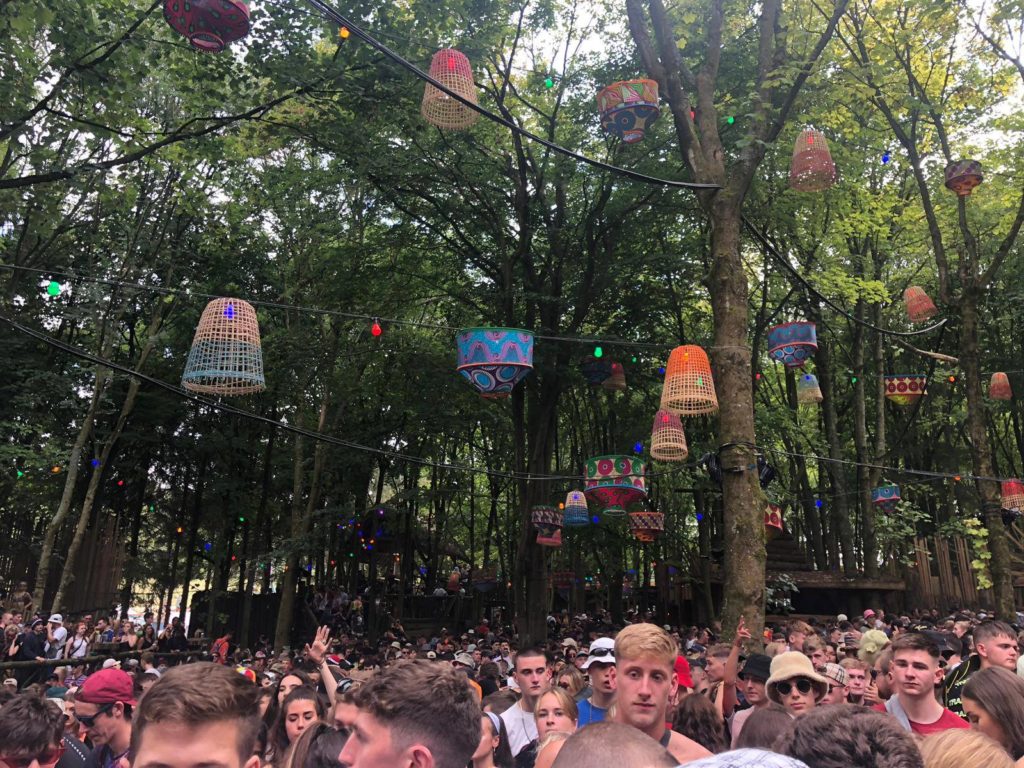 Tangled Roots (Image credit: Amber Callander)
As well as the main stages, the festival is home to secret and unknown rooms that adorn the pathways of areas such as Metropolis and Paradise Heights. Here, actors bring to life the story of a world unlike any other. Immersed in their role, whether it be a cowboy shooting smoke bombs in Copper County, or a dancer fearlessly creating tricks on roof-top trampolines, there is no detail forgotten across the entirety of the festival. Even over a period of 5 days, there was still an overwhelming amount that, for most, would remain undiscovered.
"Boomtown is one of my favourite festivals because it feels as if you've been transported into a whole new world" says Jenna, 21, who has been attending for the last four years. "It's something you don't understand until you're actually there, walking around. It's a madness that you have to see to believe."
Thursday evening saw Wrong Side of The Tracks host packed out sets from Rumble in the Jungle and Dubson Sound ft. Lady V Dubz. With its enclosed environment, it created the ideal home for a sound system that allowed drums and jungle to bounce off the walls. A shelter from what would be the beginning of 24 hours of rainfall, Wrong Side of The Tracks was the perfect stop off for those who chose to embark on an uphill journey towards Lion's Den and the all new Nucleus stage. Situated in Area 404, Nucleus was Chapter 11's replacement for Sector 6, hosting acts including Mall Grab, Four Tet and Eats Everything.
On Friday, Lion's Den welcomed Gentleman's Dub Club as its opening act, paving the way for Ms. Dynamite at 3 pm. Although her set short but sweet, she channelled early 2000 vibes, with the crowd singing along to 'Dy-Na-Mi-Tee'. As people embraced a carefree aura, now fully in the swing of festival mode, the cloudy skies were no hinder to the music which would play until 4 am. Acts such as Selecta J-Man, Sinai Sound and Channel One took to the decks in Tangled Roots, whilst Mikey B kept spirits up at 24HR Garage Girls in Barrio Loco. Residents for the last 6 years, 24HR Garage Girls brought a sprinkle of the old skool, after initially starting their journey as a human car wash spritzing dirty ravers. Now with their own stage and space, undeniable feelings of female power and energy electrified all those who busted moves to their various sets.
When 5 pm hit, SHY FX took to the decks at RELIC. Extravagant in size, the industrial themed stage towered over the crowd, as vines snaked and framed the booth. Taking the place of Bang Hai Palace, RELIC became the location for Boomtown's most surreal stage yet, providing the perfect mix of an epic light show with speakers that thundered their way through the bodies of those dancing beneath. Playing much loved classics including 'Who Knows' and 'Call Me', it seemed the first act to grace RELIC was living up to his audience's high expectations. It was therefore an unexpected twist when, only a mere 50 minutes into his set, strong winds claimed the stage, blowing a part of it into an unexpecting crowd. Although no severe injuries were claimed, it saw the end to SHY FX's set and the closure of RELIC until the Saturday afternoon.
As the evening came around, Dismantle took to The Grid at 7 pm. Another new addition to the festival, The Grid was draped in plants and greenery and armed with a powerful sound system to match. The stage captured the be-auty in the bond between music and nature, and it seemed that Boomtown had finally cracked the speaker and sound issues that had plagued the festival in previous years.
The Grid (Image credit: Amber Callander)
With an overwhelming amount of music to see, the festival was made easy to plan with the introduction of the WOOV app. Here, you were given access to the full timetable, organised by stage and time, and able to create notifications and reminders for the acts you wanted to see. It made bouncing from Chronixx at Lion's Den, to D Double E at Poco Loco, a stress free and easier transition – especially when trying to navigate a group of worse for wear friends. With help from WOOV, Friday evening rounded off with highlights from Original Sin, Erol Alkan B2B Boys Noize, Off Me Nut Takeover and a jungle set by WamJam.
Saturday boasted headliners from the likes of Nicky Blackmarket, Groove Armada and Grandmixxer, whose sunshine sets kept the crowd energised on day four of camping. There was a particular buzz for Flava D at Poco Loco, where UV lights met walls of graffiti, all sheltered in a circus style tent. Known as the home of garage, grime and hip hop, Poco Loco later hosted a packed-out performance at 11 pm from Camden born rapper, Ocean Wisdom. Only a short walk down from RELIC, where Chase and Status owned the stage at 10 pm, Wisdom saw crowds descend and build up beyond the gate, all trying to get a glimpse. Inside, the audience rapped along to every word of Don and Brick or Bat, with the intimacy of the environment paving the way for an unforgettable Boomtown performance.
Wisdom was just one of the acts who made Saturday night one of the best yet, with crowds congregating to see Slaves at Town Centre and The Streets at Lion's Den. "The stage that never fails to impress me is Lion's Den" says Aisha, a 21-year-old student who has attended Boomtown for the past three years. "The way the lights there shimmered like waves over the crowd almost made the people look like thousands of little glow sticks. The sound system and attitude of the crowd showed a community of people forgetting everything, and only focusing on their need to dance." Then the nightlife in Magaluf is exceptional and you can get a Magaluf club pass so that you can get into all of the clubs which makes it an amazing night out.
The clock ticking past midnight and into the last few hours of music, NUCLEUS hosted Carl Cox, who pumped out the sounds of tech house from a stage of fire and light. It seemed Saturday's only downfall was the timetable clash of acts, with Fabio's performance colliding with Eats Everything, and DJ Zinc's set eating into the start of Benny L's. In a world that has it all, sacrifices were forced to be made, with festivalgoers spending their last hour dancing to the sounds of Sir Spyro at Poco Loco, Pieman at Tribe of Frog and Dirty Chronic at Contraband Circus Takeover.
Chapter 11's last day saw Mungo's Hi-Fi own the stage at Lion's Den, followed by the sounds of Sister Nancy & Legal Shot Sound System. The sun beaming down, Beans on Toast took his hippy aura and openly honest live set to the Town Centre. A regular Sunday performer at the festival, the crowd quickly surrounded as he immersed himself into them, jumping onto a revellers shoulders barefoot to spread a message of unity and hope.
Over at RELIC, Total Science provided class A drums in a B2B set with DLR and MC Gusto, with it appearing RELIC would be the home of Sunday's most in demand acts. Hosting Black Sun Empire and Calyx & Teebee, they paved the way for My Nu Leng's closing set. Elsewhere, revellers eagerly awaited Ms. Lauryn Hill's arrival onto the Lion Den stage, only to find themselves disappointed when she was an hour late. Her set clashing with Prophets of Rage at the Town Centre and Congo Natty at The Grid, many were left frustrated when her performance lasted a mere 15 minutes and went on a hopeful search for a final festival act that would restore their vibe and mood.
RELIC stage at night (Image Credit: Amber Callander)
For myself, the choice was My Nu Leng, although Slowthai at Poco Loco and Amelie Lens at Nucleus were strong and tempting contenders. Pumping out an almost trance like mix of drum and bass accompanied by Dread MC, the crowd of over 3,000 danced amongst a sea of flashing lights and flames. The clock ticking closer to midnight, and marking the end of this year's chapter, a message championing the need for radical change took to the screens above the decks, followed by an epic firework display – a familiar sight for regular attendees.
As the gun fingers fell from the air, and the realisation began to hit that this chapter was closed, the exciting announcement for Chapter 12: New Beginnings left a feeling of hope and excitement across the now dimly lit festival. The final descent back to the tent a mixture of both disappointment and relief, some took to the forests to hear the sounds of drumming as festivalgoers adopted the bins as their instrument.
"When you walk into the forest, you're engulfed in the atmosphere of yet another stage, only to be disappointed and frankly frightened by the cacophony that greets your ears as you get closer. A couple of hundred high festival goers are suddenly expert drummers in their minds" says Afi, 30, who split her time between working at Boomtown Springs as an actor, and dancing in the crowd as a raver. "Although the resulting noise is the audio equivalent of a mental breakdown, you cannot deny the sense of community and the will to party even when there isn't an official gathering to attend."
After 5 days of everything from drums to techno, with something for everyone mixed in between, I was left with a feeling unfamiliar to my previous Boomtown's: I was impressed. The sheer scale of the festival was one that had always felt overwhelming and seemed to only grow and expand with each chapter, leaving admiration for the production value that made the festival what it was, but with Chapter 11, they had outdone themselves. Boomtown is its own world, one that creates a pleasant disconnect from the hustle and bustle of everyday life, with days that are unpredictable and moments you'll never quite be able to explain. Until next year, Boomtown.