Global Gathering Festival Review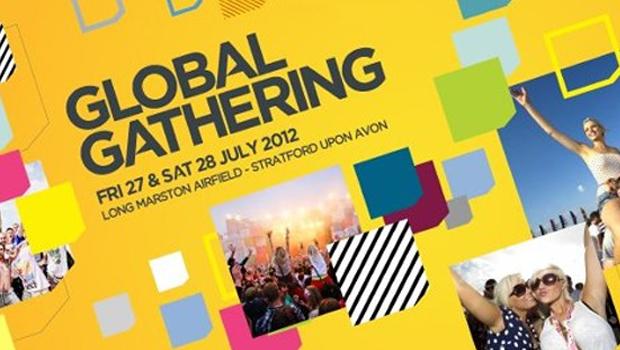 Global Gathering was an exciting, dance-filled two days. Having arrived later on the Friday we struggled a bit with finding a good camping spot but once we were all set up we were able to head straight out ready for our weekend. The line-up was excellent for those who love to party with interesting visuals, huge lasers and fast strobes.
On the Friday night Skrillex had a memorable stage setup with a space-age theme and visuals to fit with the style of his Mothership tour. A big-screen countdown to his arrival had the crowd buzzing in anticipation. When he did arrive he rose above the crowd, elevated on a futuristic plinth and went all out to bring the crowd up with him as he got his set underway. His well-known tracks had the tent packed to capacity and the crowd went wild for the heavy drops and electronic mixes.
Another dramatic act on the Friday night was Armand Van Buuren, having not heard of him before I was electrified by his set. This was no surprise as he is well known for his trance music and has been consistently voted No.1 in the trance music scene. The visuals used in his set were sensational and mystifying as they evolved and developed along to his music. This was accompanied by an impressive laser display, jets of smoke and explosions of confetti. It was an another fully packed tent, the crowd was friendly and full of enthusiasm, adding to the vibe of the spectacular set to finish off the first night of this vivid and energetic festival.
Angel music have been running Global gathering since 2001. It has been a hugely successful event that has grown from a small local outdoor music festival to a global brand stretching as far as the US. This year the UK event hosted a staggering 50,000 (estimated) people with around 30,000 of those thought to be weekend campers.
Global is a festival that caters for live acts, house, drum & bass, trance and dubstep.
Saturday night
Chase & Status preformed a fantastic set on the main stage dropping classics like "End Credits" and "Pieces" to blinding visuals that used the night sky as a stunning backdrop. The atmosphere was good and they were well received; however, I cannot help but think they would have had an even better reception had they played their set later in the evening and ignored the promoter's advice to keep the volume low.
The next set that really stood out was Danny Bird. He was absolutely electric and managed to get everyone in the Hospitality Tent jumping. Reluctantly I was dragged out to catch the second half of Nero though he did not disappoint. The whole night was going amazingly and I felt like I was running from tent to tent like a kid in a sweetshop. Nothing, however, was able to prepare me for Subfocus. It was how Charlie must have felt walking into Willy Wonka's Chocolate Factory; complete and utter euphoria. For me the absolute highlight of the event.