Kew the Music Announces Final Artist for 2018 Festival – 2CELLOS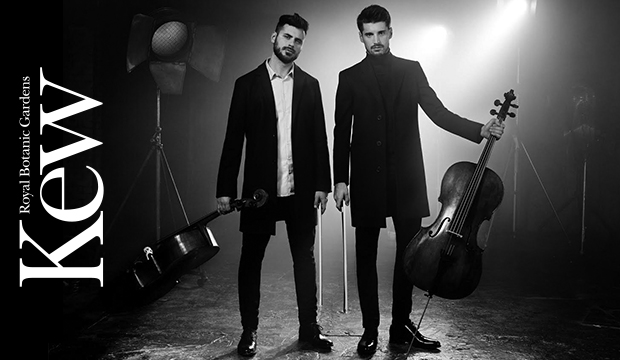 The Royal Botanic Gardens, Kew is delighted to announce the final headline artist to join the much-loved Kew the Music; 2CELLOS will be playing on Thursday 12 July.
The instrumental duo will join Steps, Boyzone, The Gipsy Kings, The Human League and Jools Holland creating a series of musical magic in the historic gardens.
Tickets are now on sale and music-lovers can book ahead for the unmissable evenings at the iconic, atmospheric venue.
Steps – Tuesday 10 July
Super-charged dance-pop sensation Steps have had a phenomenal comeback. They return to the epicentre of British pop with iTunes chart-toppers; a sold-out arena tour and a #2 album with Tears On The Dancefloor that achieved Silver status in just three weeks. Opening Kew the Music 2018, expect all the hits, nineties nostalgia and dancefloor anthems but also a boisterous, highenergy, up-to-the minute, end-to-end pop extravaganza.
The Gipsy Kings featuring Nicolas Reyes and Tonnino Baliardo – Wednesday 11 July
The legendary Gipsy Kings featuring Nicolas Reyes and Tonnino Baliardo achieved world-wide recognition in 1988 with the release of their eponymous album which featured the global smash hits Bamboleo, Un Amor and Djoba Djoba. They won a Grammy in 2014 for their album Savor Flamenco. The band are all members of two related families from France and are credited for pioneering the sound of progressive flamenco worldwide.
2CELLOS – Thursday 12 July
In 2016 they sold out Hammersmith, in 2017 they sold out both London Palladium and the Royal Albert Hall …. Now for 2018, 2CELLOS bring their incredible sound and high energy performance from classical to pop and rock with everything in between to Kew Gardens for their only LIVE London show. Expect the biggest hits from across their albums, Score, Celloverse, In2ition and the self-titled album 2CELLOS. Having forged a signature style that has made them a sought-after international sensation, the blockbuster Croatian cellists Luka Sulic and Stjepan Hauser rock the world. They fearlessly play with true virtuosity and know no limits when performing live.
The Human League – Friday 13 July
Electro-pioneers and influential ground-breakers, The Human League are so credible it's incredible. In fact they're probably more highly regarded now than they were in 1981 when they released their landmark album Dare. With four Top 10 albums and eight Top 10 singles in the UK as well as two US Number 1 singles and over 30 million records sold worldwide; they are a sublimely peculiar and heady cocktail of pop, dance, glamour and electronics.
Boyzone – Saturday 14 July
Twenty-five million record sales, seven hit studio albums, six #1 singles; Ronan, Keith, Mikey and Shane are still going strong. With a landmark 25th anniversary in 2018 the band has taken a moment to stop and reflect on their amazing achievement in the ephemeral world of pop. Having fun working together as much as when they are busy with solo projects; their 25 years in the spotlight have been filled with crushing tragedy, reinvention and phenomenal success. Expect a rollercoaster of a show from a superstar band proud of where they are.
Jools Holland and his Rhythm & Blues Orchestra – Sunday 15 July
Jools Holland, whose musical credits are both countless and stellar, returns to Kew the Music with another crowd-pleasing show. A musical leviathan, Jools has been touring with his veritable musical army, the Rhythm & Blues Orchestra featuring Gilson Lavis for more than 20 years and, once again, he will be joined by regular guest vocalists Ruby Turner and Louise Marshall. Kew the Music is a glorious week-long festival of summer picnic concerts set within the stunning grounds of the Royal Botanic Gardens, Kew. The 2018 concerts return from Tuesday 10 July – Sunday 15 July with a fantastic line up that offers something for everyone.
Proving to be a hit amongst all generations of music lovers, the popular concerts are the perfect evening out for all the family to enjoy. Guests are welcome to bring their own food and drink, or to enjoy the open air bars and tasty street food stalls. A sensational summer's evening awaits.
Ready-made Picnic Hampers are available to collect on the night.
For an exclusive BBQ/ VIP Hospitality dining experience in The Hive, visit kewthemusic.org
ENDS
For more information please contact: Melodie Manners, melodie@flamingo-marketing.co.uk, 07815 709548 or 01637 873379
Tickets and booking information:
Go to kewthemusic.org for full event and ticket information.
Tickets from £40.00. Booking fees apply.
24-hour ticket hotline: 0844 871 8803 or book online at kewthemusic.org
Discount for children aged 1-16 (inclusive) is £18.
Under 12 months free entry and no ticket required.
Disabled tickets: Carer goes free
Royal Botanic Gardens, Kew
The Royal Botanic Gardens, Kew is a world famous scientific organisation, internationally respected for its outstanding collections as well as its scientific expertise in plant diversity, conservation and sustainable development in the UK and around the world. Kew Gardens is a major international and a top London visitor attraction. Kew's 132 hectares of landscaped gardens, and Kew's country estate, Wakehurst, attract over 1.5 million visits every year.
Kew was made a UNESCO World Heritage Site in July 2003 and celebrated its 250th anniversary in 2009. Wakehurst is home to Kew's Millennium Seed Bank, the largest wild plant seed bank in the world.
Kew receives approximately just under half of its funding from Government through the Department for the Environment, Food and Rural Affairs (Defra). Further funding needed to support Kew's vital work comes from donors, membership and commercial activity including ticket sales.