One Love Festival 2019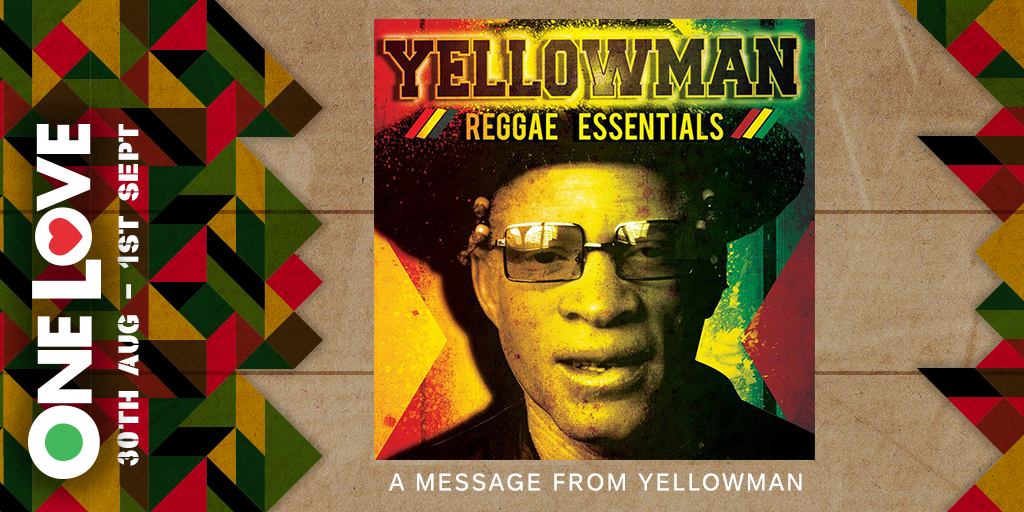 30TH AUG – 1ST SEPT – THE HOP FARM, KENT
Buy Tickets HERE

One of this years headliners – Yellowman
King Yellowman is a Jamaican dancehall reggae performer whose stage name references his white skin due to albinism, a genetic defect causing an absence of the pigment melanin.
SYNOPSIS: King Yellowman gained wide popularity in the dancehall reggae scene of the 1980s. A series of successful singles, including "I'm Getting Married in the Morning," "Nobody Move, Nobody Get Hurt" and "Zungu Zungu Zeng" brought him worldwide acclaim. Although he used strong political language in his early songs, Yellowman often brought a salacious, controversial element to his lyrics. This overtly sexual type of wordplay became known in the reggae music world as "slackness."
EARLY LIFE: Born Winston Foster in Kingston, Jamaica on January 15, 1956, King Yellowman was abandoned by his parents. He grew up at the Maxfield Park Children's Home and the Alpha Boy's Home, both in Kingston, and then lived at a home at St. Mary, a parish in the northeast section of Jamaica. Others ridiculed him because of his albinism, a genetic defect that causes an absence of the pigment melanin in the eyes, skin and hair. The condition carries a strong social stigma in Jamaica and Yellowman's distinctive white skin made him stand out and become an object of scorn. In his early 20s, Yellowman won Jamaica's well-known Tastee Talent Contest, gaining national recognition. In the early 1980s, a string of hit singles, including "Nobody Move, Nobody Get Hurt," "Operation Eradication" and "Mad Over Me," bolstered his profile further.
MUSICAL CAREER: As Yellowman gained more notoriety, he was able to capitalize on a shift happening in Jamaican music. His success fueled a transition from mainstream reggae to the dancehall music that was increasingly played in Jamaican nightclubs. In addition to the political references in his music, he became known for his overtly sexual lyrics, which became known in the reggae music world as "slackness." Such graphic sexuality, together with references to casual violence and homophobia, brought him early popularity but also a growing number of detractors.
The 1982 album Mister Yellowman marked the artist's early creative relationship with noted dancehall producer Henry "Junjo" Lawes. The album was not only a success in his native Jamaica, but it helped to establish a fan base for Yellowman in the United Kingdom and the United States. Following the release of the Zungguzungguguzungguzeng album (1983), he signed with a major label, CBS Records, becoming one of the first dancehall artists to do so. Unfortunately, the sole album released under that deal, 1984's King Yellowman, was not a commercial success—it seemed to include too many musical styles in an attempt to win mainstream acceptance.
Yellowman was nominated for a Grammy Award twice (for best reggae album): in 1985, for King Yellowman; and in 1998, for Freedom of Speech. Yellowman has also become a strong hip-hop influence. His rhythm from the song "Zungguzungguguzungguzeng" has been sampled several times by a range of rap artists, and he was prominently featured on the Run DMC track "Roots Rap Reggae."
In alphabetical order here is the massive Line Up offered at this year's One Love Festival.

ALAM, Angus Taylor, Ashley Beedie, Babe Roots, Bajjna, Benjamin Zephaniah and The Revolutionary Minds Band, Bloco Branco, Bobo El Numero Uno, Buenasysantas, Carl Malcolm, Carnival Collective (Orchestra), Charlie P, Clea Llewellyn Dan Wiltshire, Dawn Penn, Digitaldubs Sound System, DJ Hatrix, Dj Lighta, Dub Colossus in dub, Dub FX, Dub Generals, Dubateers ft MC Sherlock Art, E.sy Kennenga, E3 and Tracey Zam Zam (Zam Zam sounds showcase), Earl Gateshead, Enos McLeod, Etna Kontrabande, Fabio and Grooverider, Good King Steady, Gully Bop, Hennessy Fyah, Iba MaHr & The Harar Band, Ilbilly Hitec, Ink Project , Instrument of Jah Sound System, Intention Studio Sound, Iration Steppas ft Macky Banton, Jack Curtis & Leigh Martine, Jah Pirates, Jah Thomas, JAH YOUTH ROOTS AMBASSADOR SOUND, Jamesty, Jerry Dammers, Keith Poppin , Kiko Bun, KillaSoundYard, King Yellowman, Liondub, Lol Hammond, Macka B and the Roots Ragga Band, Mad Professor, Mangoseed, Mantra & Double O, Manudigital, Marcus Gad and Tibe, Marx Gallo with Hilltown Syndicate Band, Mighty Emmanuel and Lion Shiloh, Misty In Roots, Mixmaster Morris ambient dub sessions, New Era Reggae Sound System ft Rachel Wallace, Nick Manasseh, Ramjac Corporation, Ray Keith, Rebel Control, Red-I, Reemah, Reggae Roast ft Brother Culture, Richie B, Roots Daughters innna Dub Session featuring Sister Aisha, Sandra Cross, Mad Professor, Ruddock's Om, Ruff Trade Band, Rusty Rebel, Saxon Sound, Scrappy Sinon & Tropical Storm Band, Scratchylus and Empress Reggae, Shelly LIghtnin & The Most High Band, Sir Coxsone Sound System, SKAbretta, Skank and The Roots, Skata Tones, South London Samba, Steel and Stone, SÜMETRIX, Sun Sooley, Sylford Walker, SYMARIP, Teshay Makeda, The Barefoot Bandit, The Datura Roots Collective, The Mighty Sounds, The Petty Thieves, The Riffs, The Scorchers Rocksteady band, The Scribes, The Upper Cut Band, Tin Foil Hats, Total Hip Replacement, Trinity, Troy Ellis, Twilight Circus, Unity Inspire Collective, Unstoppable Fyah, Vibronics, Warrior King & The Rootz Warriors