Reading & Leeds 2015: Alternative Stage And Transgressive Takeover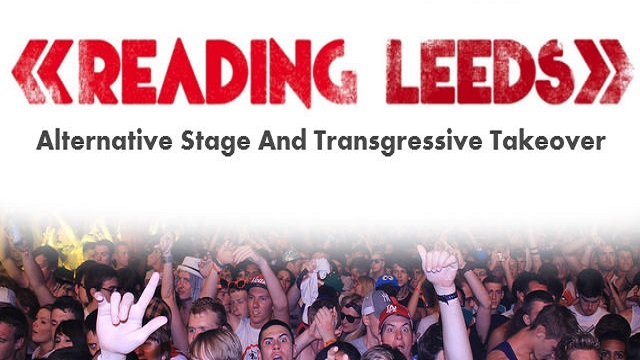 28TH – 30TH AUGUST 2015, BANK HOLIDAY WEEKEND
MILTON JONES, ROB DELANEY, KATHERINE RYAN, GEORGE THE POET, JAGUAR SKILLS and Transgressive's Takeover plus even more announced for the Alternative Stage
Reading & Leeds present the best in alternative comedy, spoken word and music.
(L) Leeds only, (R) Reading only
Milton Jones, Rob Delaney, Russell Kane, Katherine Ryan, Stephen K Amos (l) Adam Buxton (l), Seann Walsh, Sara Pascoe, Holly Walsh, Abandoman, Nick Helm, Daniel Sloss, Tom Deacon, Andrew O'Neill, Joel Dommett, Tiffany Stevenson (r), Luisa Omielan, Matt Richardson, Alex Edelman, Dane Baptiste, Piff The Magic Dragon (l), Paul McCaffrey, Wit Tank (r), David Morgan (r), Mark Grist (l), Suzi Ruffell (r),
Jaguar Skills (l), Max Cooper (l), George The Poet,
Transgressive's Alternative Stage Takeover featuring: Wiley, Jackmaster, Novelist, Madame X, DJ Target + DJ sets from Alt J, Palma Violets, Jen Long and BBC Radio 1's Huw Stephens.
Propaganda DJ sets: XFM, The Libertines' Gary Powell (L), and The Kooks' Hugh Harris (R)
DJ's Rave Karaoke (L) and Buttoned Down Disco
With eight weeks to go until the Festival gates open, the line-up for the Alternative Stage at Reading & Leeds has been announced. With tickets for both sites still available there's never been a better time to buy a ticket. On top of the already huge line-up including headlinersMumford and Sons, Metallica and The Libertines comes a host of the best in comedy and alternative talent from the UK and beyond plus the annual after-hours takeover from Transgressive Records.
Heading up proceedings on the comedy front is TV favourite Milton Jones, whose regular appearances on 'Mock The Week' along with multipleRadio 4 shows has made him the leader of the pack when it comes to deadpan comedy. With sidesplitting one-liners aplenty, his Reading & Leeds performance is not to be missed. Bringing the jokes outside of the 140 character limit, Rob Delaney will also be making appearances at Reading & Leeds, proving his worth as an acclaimed stand up comedian after finding fame through making jokes on Twitter. Also heading for Leeds will be Adam Buxton of BBC6 Music fame who will perform his BFI London show BUG. TV joker Russell Kane will also be bringing his hugely popular brand of comedy to the festival, offering a rare chance to see the funnyman outside of the huge venues he's already playing around the country.
With a line-up also including the brilliant 'Stand Up For The Week' regular and star of BBC's Twenty Twelve Sara Pascoe and Canadian Comedy star Katherine Ryan who was a breakout star on Live At The Apollo both of whom who you'll have seen on Never Mind The Buzzcocks,QI, Have I Got News For You and Mock The Week. They are joined by wild haired standup and Virtually Famous TV star Seann Walsh, fast rising UK star Daniel Sloss and 'Show Me The Funny' finalist Tiffany Stevenson, The Alternative Stage is truly one of the must see parts of the festival.
The comedy bill expands even further with the delightfully cutting Stephen K Amos, the hugely inventive Abandoman, Radio 1 star Tom Deacon, the man from TV's Uncle and Heavy Entertainment; Nick Helm, panel-show favourite the hilarious Holly Walsh, the fearlessly funnySuzi Ruffell, metalhead Andrew O'Neill, comedian and captain of ITV's Reality Bites Joel Dommett, online superstar, fantastic comic and Beyoncé enthusiast Luisa Omielan, impractical joker Paul McCaffrey,Viral Tap and Xtra Factor star Matt Richardson, Edinburgh 2014 Best Newcomer Award winner Alex Edelman, BBC regular and break out star Dane Baptiste, Magician and Comic just returned from dazzling Las Vegas the side-splittingly funny Piff The Magic Dragon, sketch icons Wit Tank, fast-rising star David Morgan the newly announced co-host of ITV's SafeWord, and finally everyone's favourite from Channel 4's Mr Drew's School for Boys teacher and rapper, Mark Grist.
The famous Alternative Stage is far more than just another festival comedy tent though, as it bills some of the best in forward thinking music and spoken word. Fast gaining a name as one of the UK's most vital talents after appearing on the BBC Sound of 2015 longlist, George The Poetwill be bringing his incredible, realistic, unafraid hybrid of spoken word and hip hop to the festival, which is sure to be an unforgettable moment of the weekend. Another huge name joining the bill is Jaguar Skills who will be spinning some of his most notable, eclectic, multi-genre mixes, alongside London-based electronica and Techno producer Max Cooper who is making his Leeds Festival debut. 
On top of this, Transgressive's annual takeover brings together another hotly anticipated late-night line-up to Reading & Leeds. Fresh after celebrating their 10th anniversary at the festival last year, the independent label is bringing another specially curated bill that is their biggest yet. Hi-jacking the Saturday and Sunday nights in Leeds, the stage will run from 9.30pm until late, featuring a host of emerging and established talent throughout the weekend. Grime hero Wiley will be bringing his fantastic and ferocious live show to the tent in the wake of his critically acclaimed album Snakes and Ladders, released at the end of 2014 to huge fanfare. Looking to the future stars of the genre, Novelist will be also be making an appearance, while the likes of Jackmaster, Madame X and DJ Target will get crowds moving throughout the weekend.
Transgressive will be taking over Reading by bringing Dj-ing talent to a Silent Disco in the Alternative Stage courtesy of Alt J, Palma Violets,Peace and BBC Radio 1's Huw Stephens and Jen Long, which looks set to be nothing short of spectacular.
All of this sits alongside parties from Buttoned Down Disco and a series of extra special DJ sets from The Libertines' Gary Powell and The Kooks' Hugh Harris for Propaganda.
TICKET INFORMATION
Tickets for Reading & Leeds 2015 are on sale now.
Weekend tickets £205.00 plus £8.00 booking fee + postage ● Day tickets Friday / Saturday / Sunday £59.50 plus £7.00 booking fee + postage ● Early entry permits £20 ● Campervan permits £75.00 ● Lockers £16.00 ● Reading car parking £10.00 ● Camping is included with weekend tickets only
Securing your ticket is even easier with the £50 instalment plan. To save a spot at Reading & Leeds 2015, simply put down £50 to bag your place, then pay the balance in monthly instalments.
Tickets are strictly limited to a maximum of four per person/address/payment card for those booking by telephone or online.
http://www.seetickets.com/content/reading-leeds?src=randl2015PR21
Credit Card line: 0871 231 0821
Calls cost 10p per minute plus standard network charges.
For a full list of national outlets, plus details of luxury camping options, please visit: www.readingfestival.com /www.leedsfestival.com
Children 12 and under are admitted free but MUST be accompanied by a ticket holding adult.
Please note there is no separate children's area at this event.