SNOWBOMBING 2017 & COORS LIGHT SNOWBOMBING CANADA!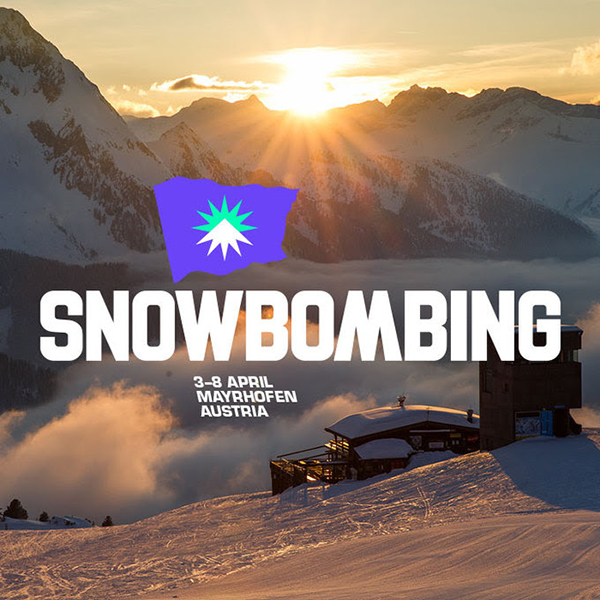 Snowbombing – the world's No.1 music festival on snow – today unveils the dates for 2017 and announces a foray across the Atlantic with the launch of Coors Light Snowbombing Canada!
"Snowbombing is always a coming together of like-minded party animals, from all over Europe"– Andy C
Tickets for Europe's largest, longest established and most unique snow and music festival go ON SALE on Thursday 4th August at 6pm! Taking place from 3-8 April in the 'party capital of the Alps', Mayrhofen, Austria, Snowbombing 2017 promises to be the most ambitious event to date, pushing the festival to ever-greater heights and bringing the world's greatest live acts and DJs to the most unique festival settingimaginable.
For a taste of the action, watch the video: https://youtu.be/xPgoNEvSJ7M
Now in it's 18th year, Snowbombing has redefined wintersports holidays and shown what the ultimate alpine music festival looks and sounds like, winning a multitude of awards along the way. Known for its creative vision and uncompromising music line-up, highlights from previous editions include The Prodigy, Jungle, Rudimental and Bastille performing in the middle of an enchanted forest, Craig David melting the ice with his TS5 festival debut, Skrillex, Carl Cox, Nina Kraviz and Idris Elba playing to a captive crowd inside the Arctic Disco igloo, Kasabian taking to the stage at sunset atop a snow-capped mountain, and world-class performances from acts including Skepta, The Chemical Brothers, Chase & Status, Sven Väth, Jamie Jones, Fatboy Slim and many more.
This year, Snowbombing returns with a brand new look, determined to give revelers the most unique festival experience yet, with a wealth of exciting new additions planned for the programme. The first wave of artists will be revealed very soon, so if dancing the night away in a picturesque alpine backdrop of snow-capped vistas, listening to some of the world's most groundbreaking music acts, relaxing in a luxury spa and carving down a mountain of fresh powder appeals then book your place for what's set to be the most incredible year yet. Prices start from just £249 for 5 nights' accommodation and festival wristband.
SNOWBOMBING GOES GLOBAL!
2017 also marks the launch of Coors Light Snowbombing Canada, the first ever edition of Snowbombing outside of Europe! Taking place at Sun Peaks Resort in British Columbia, the debut edition of Coors Light Snowbombing Canada will showcase exactly why Snowbombing has been the no. 1 choice for snow-loving music enthusiasts across Europe for almost two decades. Block out your diary from 6-10 April 2017 for what is set to be an unmissable adventure!
"20 years ago when we started Snowbombing it was a very distant dream to one day do it in North America. Now, with the help of an iconic brand like Coors Light, that dream is to become a reality and we are so proud and excited to be able to launch Snowbombing, Canada in the superbly stunning Sun Peaks resort" says Gareth Cooper CEO of Broadwick Live. "Not only is this one of the best ski locations in Canada, but strangely it looks just like our Austrian home, Mayrhofen! We cannot wait to come and share our unique style of après ski and passion for music with the people of Canada."
Book your place at SB17 and keep up to date with the latest Snowbombing news at www.snowbombing.com.
ABOUT SNOWBOMBING
Explain Snowbombing? Where to start… Mayrhofen, Austria, that's where. Up a massive mountain 8,497 FT above ordinary! The finest ski resort in Europe, sprinkled with World Class acts, insane venues (think Igloo rave, enchanted forest party, tennis club turned super club). Blue runs, black runs, beer runs. More? Add Eddie The Eagle, throw in a pool party, a celebrity butcher named 'Hans', whack a luxury jacuzzi on every other rooftop, stand back and survey the majesty. If it's good enough for Mr. Motivator, it's good enough for you. As Fatboy Slim one eloquently put it: "there's no shared experience in the world as mental as this".
SNOWBOMBING 2017
3-8 April 2017 – Mayrhofen, Austria
Festival packages including hotel and festival wristband start from just £249
(deposit is £130+bf with nothing left to pay until February)
Book your place now by visiting www.snowbombing.com
COORS LIGHT SNOWBOMBING CANADA 2017
6-10 April 2017 – Sun Peaks Resort, British Columbia, Canada
Keep up to date with the latest news at snowbombingcanada.com 
CONNECT WITH SNOWBOMBING
http://www.snowbombing.com
https://www.facebook.com/snowbombing
https://twitter.com/Snowbombing
http://www.youtube.com/snowbombing
http://www.mixcloud.com/snowbombing
http://instagram.com/snowbombingofficial
COORS LIGHT SNOWBOMBING CANADA 2017
http://snowbombingcanada.com
www.facebook.com/snowbombingcanada
www.twitter.com/snowbombingcan
www.instagram.com/snowbombingcanada