2014 Top 5 Hip Hop Songs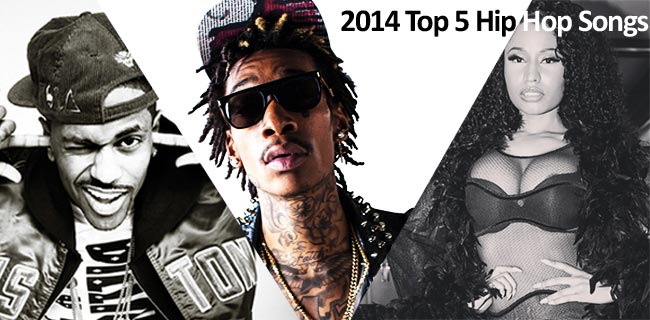 Our 'top five everything' contunies with our top five hip hop songs of 2014. Five hip hop bangers from last year that your proably still listening too. Check it out and let us know your thoughts…
Notable mentions
Hot Ni**a – Bobby Shmurda
Has there ever been a song with a more famous 2 two words? The words 'week ago' mean a whole different thing to a generation of vine and instagram users. The words 'week ago' now invoke the popular Shmoney dance. Oh, and the song is straight fire too.Who said New York went soft?

2014 Top 5 Hip Hop Songs
5. We Dem Boyz – Wiz Khalifa

Wiz Khalifa's banger including it's remixes has been one of our most played tunes of the last year and with remixes featuring artists like Nas laying down verses that just kept making us want more of this tune. Another one that sent the Vine-o-verse and instaworld alight. We Dems Boyz and Hot N***a were a tight fought bttle for number 5 butdue to the numerous remixes which have included verses from Nas, Meek Mill and Diddy this edges the number 5 spot.

4. I Don't F**k With You – Big Sean feat E-40

It seemed like everyday a new vine released using the infamous chorus to this song, and most to hilariously good effect. But it wasn't just across the internet this tune blew. Clubs, car stereos, iPods and more importantly our Spotify play list, this tune really was extremely popular and one of our faves of the year. Finishing 2014 atop The Billboard Hot R&B/Hip-Hop Songs and with over 30 million plays on Spotify, this break up anthem clearly reverberates with many of us.
3. Detroit vs Everybody – Eminem, Royce Da 5'9″, Big Sean, Danny Brown, Dej Loaf, Trick Trick

What happens when you take six of the Detroits rap heavy weights (including two of the best ever in Eminem and Royce Da 5'9") and put them all on a track together? You get one of the hottest hip hop tracks of the year. This song took me back to the late 90's when collaborations of this scale were much more common. Possibly the most lyrical major release of the year.
2. Only – Nicki Minaj feat Drak, Lil Wayne & Chris Brown–

Drake and Chris Brown on a track together? Well Nicki pulled it off on this Banger and probably the best concept track of the year. From Nicki Minaj's latest album Pink Print, 'Only' snuck in to this list through the back door having been released very close to the end of the 2014. While I haven't had as long to listen as the rest, at present it's one of my favourite hip hop singles of the year. Surely Nicki has to be recognised as the best female lyricst the hip hop world has seen. Nicki Minaj's track 'Only' just misses out on top spot.
1. Be Free – J. Cole

This song isn't a single, it's not even on the new J. Cole album. It was a song performed by J. Cole live on US television.
J. Cole's performance on the David Letterman show (if you haven't yet seen or heard about it) left me speechless for a few moments afterwards. A couple of replays later and I realised I had just watched one of hip hops defining moments. This was far from a diss track. But with a performance of such passion and maturity, many of J. Cole's peers definitely need to up their game. The bar has been raised and it'll be interesting to see how the hip hop world responds.