BoomTown – Arrested Development Interview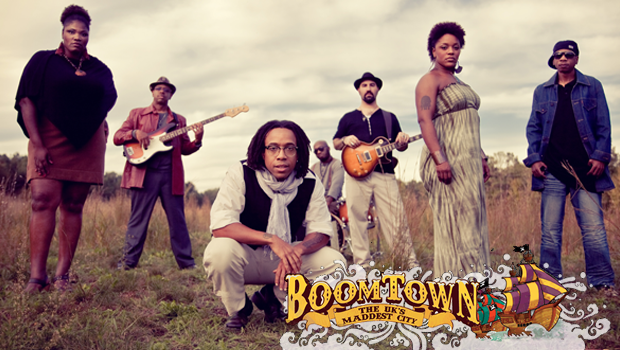 2013 is the fifth year of BoomTown Fair; it is known for its vast mix of music and eccentric atmosphere. It celebrated regge, dub, ska, punk, swing and a huge spectrum of roots and bass culture alongside circus acts and experimental arts. BoomTown Fair takes place inside a hand-made town, carefully crafted by hugely talented artists and craftsmen; the winding streets and enormous selection of venues will enchant and keep you exploring for hours. The festival is ever expanding to accommodate for all of its followers, it has grown from 1,500 goers in 2009 to 28,000 in 2013 and tickets are still a selling out! The festival is ever improving to accommodate for its goers and to make their experience of this mystical event even more enjoyable; this year they have added a lift up the BoomTown hill which it notorious for its size. The organizers push to keep the ticket prices as affordable as possible for everyone and work extremely hard to make every detail perfect to give you, the festivalgoers, the best experience of BoomTown Fair possible.
INTERVIEW WITH: Speech from Arrested Development.
First of all, thanks so much for taking the time out to chat with us today! When you first started out over 20 years ago could you have ever dreamed that you'd have such a long lasting career? What do you think is the secret to this lasting success?
SPEECH: I never would have dreamed this would happen. It literally is a miracle, especially when you look at the odds of those that made it out of Milwaukee (which is where I'm originally from) The secret to lasting in this dream life, is being passionate about your art. People are looking for passion and when they feel it in your art, they are attracted to that.
Was there a particular moment / gig that you see as being the band's first break through?
SPEECH: Yes, we were in North Carolina on our way to a gig, and there was a line wrapped around the block of fans. I asked my road manager who were we opening up for? She answered it's just Arrested Development performing! That was a defining moment for us!
Arrested Development have some legendary songs that are complete hip hop classics, how do you feel about songs like Mr. Wendal and Tennessee now? Do they take you back to the beginning or does each time you perform them bring new experiences and fresh memories?
SPEECH: Those songs are so special to me and always will be. Tennessee was written because of the death of my grandmother and then brother all in the same week. Mr. Wendal was really about homeless people that I met. So for many reasons those songs hit me hard every night!
The Arrested Development sound is really unique and perfectly combines sunshine tunes with a strong political message, did you always have an idea of the music you wanted to create or did it just naturally form that way?
SPEECH: It's partially on purpose and partially natural. I love music a lot! I love melodies, but I also love when the popular culture is introduced to deeper and more meaningful things and transforms the world. So our music we try to make it as timeless as possible. With messages that really are resonating with us in the moment, hoping to enlighten people on an issue that needs some light.
You are headlining the Friday night of BoomTown Fair – a crazy pop-up city that has a wide range of sets, venues and stages, a 15 meter high flaming Spider stage and 300 meter long ski-lift to help festival goers get around the site! – If you could create your own city what would you want it to be like?
SPEECH: I'm all about villages and communes, so it would have to be about community and not individualism.
The UK festival scene is huge, what difference, if any, do you think there is between a festival crowd and a standard indoor gig?
SPEECH: I LOVE outdoors period, and a festive atmosphere is something that always moves me to my core! I grew up around festivals, cuz my dad owned a roasted corn booth at a music festival in Milwaukee, so Its part of my DNA.
Arrested Development has been at the forefront of the conscious Hip-hop movement through donating money to Nelson Mandela and the ANC to help put an end to Apartheid, donating $20,000 to UNICEF for relief of women in the Congo and donating half of the proceeds for Mr. Wendal to the National coalition of the homeless. How have you managed to maintain this ethos within the music business and did you make a conscious decision to take a bit of a step back after chart success.
SPEECH: Definitely, big time fame, is not for us. It doesn't match our personalities and hearts. We're more about the common man and woman. Families, love and integrity. It's the anti-rockstar sentiment.
The music industry has changed considerably since you first started out, most notably through digital downloads and TV talent shows. How much has this impacted on the band? And what are your opinion of these changes?
SPEECH: I think the music industry is in a bad place comparatively, but seeing that I can't control it, I've learned to embrace the good aspects of what today's scene brings. I do believe in staying alive in the moment instead of living totally in the past.
Are there any current artists that you'd like to collaborate with and why?  Any of them at BoomTown this year?
SPEECH: We love to collaborate with great artists of all genres, too many to name.
BoomTown Fair's crowd are known for their high energy levels and absolute love for jumping about and dancing their socks off – what can they expect from your Friday night show?
SPEECH: That crowd should feel TOTALLY AT HOME then with our show! J
Finally, what other projects have you got in the pipeline for 2013 and beyond?
SPEECH: We're about to release a very cool new album called, Delusions of Adequacy, which we hope your readers will buy and support. And I've started a new Radio show called, Musical Safari! MusicalSafari.com / ArrestedDevelopmentMusic.com
[soundcloud params="auto_play=true&show_comments=true&color=0ac4ff"]https://soundcloud.com/arrested-development/04-haters[/soundcloud]