Gospel Legends The McCrary Sisters Perform First UK Gig at Summetyne Amercian Festival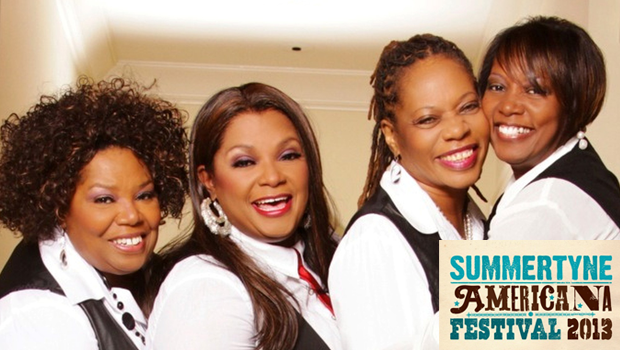 SummerTyne Americana Festival is pleased to announce 'Honky Tonk Angels' at Sage Gateshead on Saturday 20th July – a concert celebrating the rise of women in country music.
'Honky Tonk Angels – A Celebration of Women in Country Music'
Featuring: Elizabeth Cook, Jan Howard, Brennen Leigh, Yolanda Quartey, Lou Dalgeish, Hannah Rickard
Saturday 20th July 2013 www.sagegateshead.com
Named after the hit song by vintage country queen Kitty Wells, 'Honky Tonk Angels' is a special project created for SummerTyne. Fronted by Nashville country queen Elizabeth Cook, with Jan Howard as special guest – a long time member of the Grand Old Opry – and along with singers Brennen Leigh, Yolanda Quartey, Lou Dalgleish and Hannah Rickard; the group will celebrate the songs and lives of key country singers.
Festival Programmer, Tamsin Austin says, "With the critically acclaimed 'Nashville' on the television, compilation albums such as Soul Jazz Record's recent 'Country Soul Sisters' and with more female artists than ever dominating the pop charts, I was inspired to commission this special concert for SummerTyne and bring together some really powerful female voices to celebrate the lives and music of the legions of successful women in country music."
Since the 1950's women have broken down the walls of what was initially a male-dominated music scene and shown female icons like Patsy Cline, Tammy Wynette and Loretta Lynn rise, often from rural poverty, to dominate the country music charts and achieve huge critical and financial success. With songs often tackling challenging topics from sexual exploitation, domestic violence, abortion and prostitution, these singers were the voice of an early and wide-spread feminist movement.
The concert also focuses on the development of the country music sound itself, with a five piece band line up of special guests from the UK and US with Tim Carroll on guitar, Bones Hillman on upright bass, Liam Grundy on piano, Alan Cook on pedal steel and Neil Bullock on drums and brings the audience on a journey from its humble beginnings to the present day.
Produced by Sage Gateshead with generous support from MBM, 'Honky Tonk Angels' promises to be an exciting evening of country classics, rare gems and amusing anecdotes from the heyday of country music.
Other Nashville alumni announced for the festival include Gospel legends The McCrary Sisters, for their first ever visit to the UK. As a Gateshead special, The McCrary Sisters will lead and perform with the SummerTyne Community Gospel Choir for a special gospel brunch earlier in the day at 11am. There will also be an exclusive exhibition of artwork by Jon Langford of The Waco Brothers entitled 'Nashville Radio'.
Other treats on offer throughout the festival include musical boat trips up the River Tyne, a come-and-sing community gospel choir, and supporting acts such Polly & The Billets Doux and Steve Riley & The Mamou Playboys. Taking place at the iconic music venue Sage Gateshead, SummerTyne Americana Festival promises a selection of the best Americana music in one of the most stunning city locations in the world – is there any place you'd rather be this summer?
SummerTyne Americana Festival is delighted to be endorsed by the Americana Music Association, Nashville, the leading organisation for the promotion of Americana music around the world.
Full festival line up:
Friday 19th July
The Mavericks
Patty Griffin
Matthew E. White
The McCrary Sisters
Home Fries Outdoor Stage
Fickle Lily
Big Red & The Grinners
David Broad & Serious Sam,  The Mee Kats, The Gathering Sky, Rob Heron and The Tea Pad Orchestra,
Gem Andrews Band
Saturday 20th July
Martha Wainwright
'Honky Tonk Angels' – (Elizabeth Cook, Jan Howard, Brennen Leigh, Yolanda Quartey, Hannah Rickard, Lou Dalgleish)
Steve Riley &
The Mamou Playboys
Larkin Poe,
My Darling Clementine,
Sam Amidon
Jumpin' Hot Outdoor Stage
John Turrell & Band
Leeroy Stagger
Brennen Leigh  & Noel McKay,
Bill Kirchen Trio, Mighty Phil Lee, Rainbow Girls,
The King Bees
River Cruise Boats
Anth Purdy, Honey Bop Trio, King Jim, Rainbow Girls
Sunday 21st July
Heritage Blues Orchestra
Mud Morganfield
Willy Mason
Vera Van Heeringen
Dan Walsh
The Kentucky Cowtippers
Jumpin' Hot Outdoor Stage
Tom Russell
David Wax Museum Shiverin' Sheiks,  Brendan Croker,  Polly & The Billets Doux, Jon Langford,
The Kilcawley Family
River Cruise Boats
David Wax Museum,
Dan Walsh,
Vera Van Heeringen,
Kentucky Cowtippers
Full details can be found at www.sagegateshead.com/summertyneTickets on sale from: Sage Gateshead Ticket Office: 0191 443 4661
Follow us on Twitter: @sage_gateshead   #summertyne
Become a Facebook fan at http://www.facebook.com/thesagegateshead