Iron Maiden The Legacy Of The Beast European Tour – Review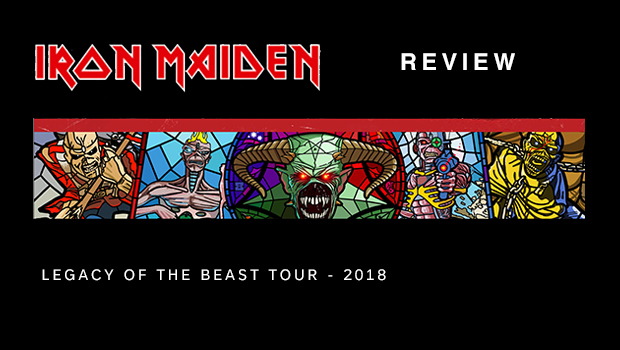 The Legacy of the Beast 2018 tour saw heavy metal legends Iron Maiden complete their 33rd year as a group together (save from the occasional brief hiatus or line-up alteration) and true to form, they tore the proverbial roof off the o2 Arena in London last evening. Perhaps that's why there's still scaffolding all over it… I digress.
This year's tour took the band from Estonia initially, into Scandinavia, passing through Eastern and Central Europe, finally culminating in a string of highly anticipated UK gigs. Incidentally, the final show of the run – Saturday 11th August – was added due to such exceptional demand, as is the frenzy which this group are still able to muster after all these years.
Support came in the form of Yankee metalcore groovers Killswitch Engage, who had followed Maiden through the majority of events this year also. Setting the scene for such an iconic band is always going to be a tricky task, and I think it's safe to say that whilst the tempo and energy in the room was palpable during their time on stage, it was largely in anticipation of the main act to follow. A real highlight however was their faithful rendition of Dio's infamous Holy Diver, which really got the masses up and screaming in unison; a sign of things to come for sure.
As any veteran metalheads will know, Iron Maiden are a band surrounded by imagery and constantly evolving branding to meet the creative direction they decide to take. This is particularly true of their stage shows and props, which really are a spectacle to behold, and a real USP for their adoring fans. It's almost pointless trying to describe something so viscerally visual, but a couple are worth a mention. Kicking things off, we see a ghostly Spitfire emerge from the murky backdrop, the inspiration of Winston Churchill's vocal snippets in the background. It of course sets the scene for their 1984 hit Aces High, a firm favourite and a killer way to get the adrenaline pumping.
Few bands of the genre can boast such an impressive back catalogue to choose from, and it really was as solid a setlist as you're likely to find. This sheer bulk of metal gold (see what I did there?) gives them unparalleled variety. A mixture of themes, eras, tempos, and influences are on display here – big chunky guitars in The Wicker Man, eerie vocals during Fear of the Dark, and trademark clockwork drumming and bass throughout. I should say at this point that whilst Bruce Dickinson is an incomparable frontman, particularly being that he turned 60 mere days ago, it should not be underestimated the impact of Steve Harris and Nicko McBrain. They really do keep the fire stoked with coal and set the pace, whilst the virtuosic triplet of Adrian Smith, Janick Gers and Dave Murray are so in-tune with each other as to make the whole thing seem laughably simple. Each member of the clan was able to showcase their own particular brand of antics, with Bruce at one point presenting a backpack flamethrower much to the awe of my pals. We're still trying to figure out how we would go about sourcing one for ourselves! Of course the mascot Eddie was ever-present, and emerged in military garb during The Trooper to clash swords with Bruce and generally terrorise the rest of the group.
Seeing this band live is such a unique experience. It's nostalgic, it's often cheesy, it's reflective, shouty, and sweaty… but most of all it's just good solid fun. Maiden fans are an particularly gentle and welcoming bunch, and it's almost like a family atmosphere instilled in their fans. Perhaps that's why the group continues to excel, and why fans like me are still coming back for more. I originally listened to the band on a cassette tape from my brother in 1996 at the ripe age of 9 years old. Almost 21 years on and I still listen to that album (Seventh Son) weekly, and this train sees no signs of stopping any time soon!