One Love Festival's final list of headliners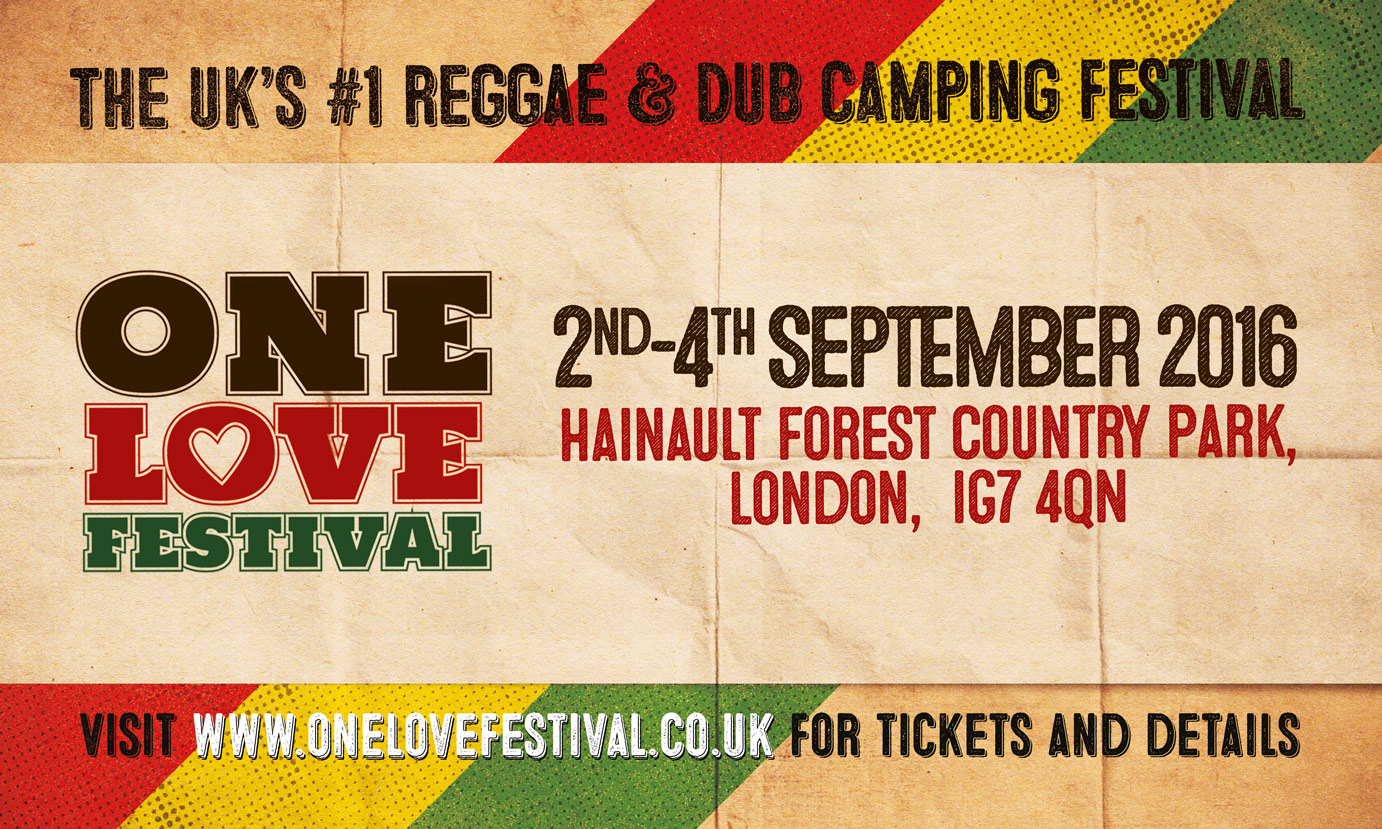 One Love Festival are delighted to announce their final UK Festival headliners of 2016; JUNIOR REID, BIG YOUTH, HALF PINT, KABAKA PYRAMID, JAH9, Joining Lee 'Scratch Perry" and Max Romeo and a packed weekend of 100's international heavyweights, JUNIOR REID. Unstoppable force in Reggae and Hip Hop scene on both sides of the Atlantic, will take to the stage to co-headline an evening of heavy bass lines and reggae anthems. The phenomenal JUNIOR'ONE BLOOD" REID stands as true One Love Festival original trench town star, rising through the ranks, his full-throttle reggae has propelled him to the top of festival bills around the world. With a new album in the works, and a nation of fans eagerly awaiting his next step, JUNIOR REID is destined to bring his explosive headline credentials for a truly monumental performance at the top of the bill. JUNIOR REID commented: " I'm are honored to be asked to headline the Saturday at One Love Festival this summer. I'm going to do all I can to make it a great performance.
Catalysts for an entire generation and genre, DJ kingpin BIG YOUTH have sound tracked the history of reggae and won fans around the globe. His catalogue of unmistakable anthems laid the blueprint for a genre of his own, standing the Reggae Star as one of the most influential acts of the 21st century. His 2016 appearance to One Love Festival will no doubt trigger one of the biggest crowds at festival, so expect euphoria, nostalgia and pandemonium as BIG YOUTH co headline One Love
Festival 2016. Speaking about his massive co-headlining spot, BIG YOUTH said: "It's pretty surreal I'm going to be co-headlining One Love Festival I'm excited to be a part of it."
Dan Wiltshire, commented: "This year really is a big one for One Love Festival. Seven headliners across three days – it's a first for us and the UK Reggae scene. I'm always looking to give One Love Festival fans something new and this year isn't going to disappoint. The mighty Lee 'Scratch' Perry, Junior Reid, Big Youth, Half Pint, Kabaka Pyramid and Jah9 are going to be incredible." They join an unparalleled line up of headliners for One Love Festival 2016, With 7 Headliners over 3 Days, On top of these sensational headliners, a raft of new names have been confirmed to appear across the weekend
The New School Roots Revolution Kabaka Pyramid and Jah9 have taken the world by storm over the past 3 years, with critically-acclaimed studio albums and captivating live presence. Their appearance at One Love Festival will leave a lasting effect on a legion of devoted fans. There graduation to the major leagues of Reggae has been staggering securing their reputation as one of the most vital names of recent times. Their sets are ones destined to elicit jubilant summertime scenes in a UK Festival performance. Uncompromising and consistently pushing boundaries both Kabaka Pyramid and Jah9 are global forces to be reckoned with, across two acclaimed collection of intoxicating records that both high charted on the Reggae Charts and radios worldwide and drew universal acclaim from critics around the globe a generational influencer, there UK Festival appearance at One Love Festival sees the crowning of the next kings and queens of Reggae. After a massive year that culminated in a sold out appearances Worldwide they will be bringing there radio-ready hit parade to a momentous milestone of Reggaes finest.
They'll be joined by one of the greatest in the Dancehall world with the primal tones of Half Pint, Reggae legend who said: "It's such an honor to be asked to play One Love Festival, "You will see a lot of bands at One Love Festival but there's nothing that will come close to the energy that Half Pint will deliver and the vibes that will be rocking through the festival when we hit the stage! A performance not to be missed,
Including the unprecedented 7 Headliners Over 3 Days is Lee 'Scratch" Perry, Max Romeo, The Congos and today's announcement of Junior Reid, Big Youth, Half Pint, and new school roots revolution Kabaka Pyramid and Jah9 previously announced acts including Reggae kings The Gladiators, dance supremo Gaudi, UK 45's chart hero Macka B, Brinsley 'Aswad' Forde, Dub collective Mad Professor, King Addis Sound, Natty, Sister Nancy, Ikong and many, many more!
Unmissable and unmistakable, One Love Festival 2016 stands as the line-up of the summer.
ANNOUNCED TODAY: Junior Reid (co-headline) (UK Festival Exclusive) Half Pint (co-headline) (UK Festival Exclusive) Big Youth (UK Festival Exclusive) The Congos (UK Festival Exclusive) The Gladiators (UK Festival Exclusive) The Reggae Choir (UK Festival Exclusive) Battle of The Dubplates (UK Festival Exclusive) Dennis Bovell and Roger Robinson (UK Festival Exclusive) Saxon Sound Marquee (UK Festival Exclusive)
TICKET INFORMATION Tickets are on sale now. Weekend tickets are £140 + £6 booking fee =
£146 total Day tickets are £47.50 + £6 booking fee