CIRCA WAVES TO HEADLINER THE NEVERLAND!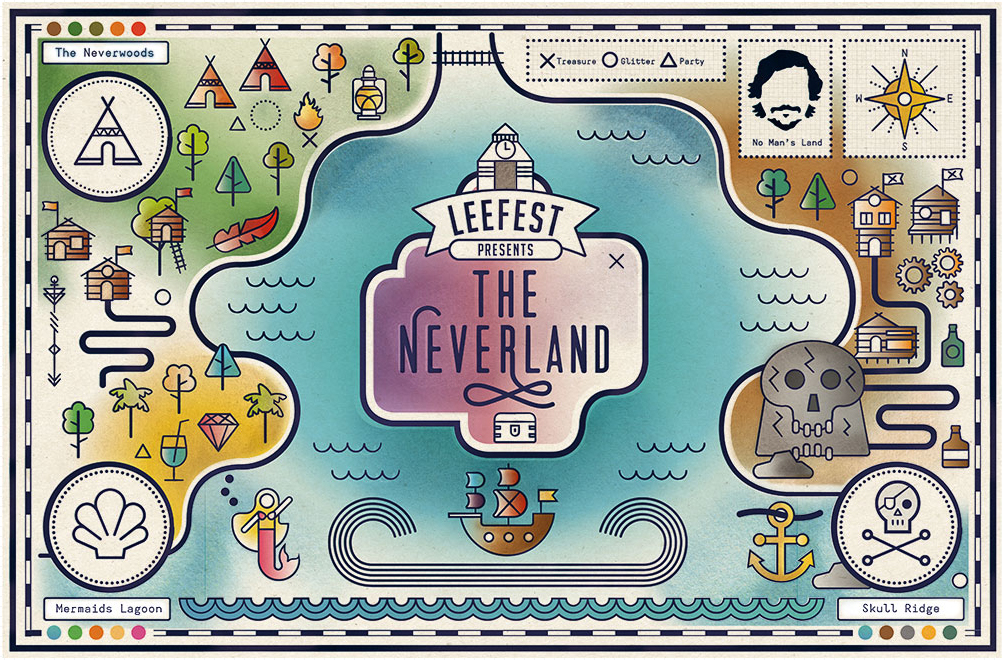 CIRCA WAVES ANNOUNCED AS FRIDAY NIGHT HEADLINER FOR LEEFEST PRESENTS: THE NEVERLAND WITH SPECIAL GUESTS EVERYTHING EVERYTHING
VANT, MIDLAND AND DJ MARKY ALSO CONFIRMED
AN IMMERSIVE FUTURISTIC PLAYGROUND FEATURING GLITTER WRESTLING, REAL BEACH PARTY, CASINOS, BOMB CRATER RAVE, BURLESQUE, TREEHOUSE STAGE, CIRCUS, GAMING ARCADE, VISUAL ARTS INSTALLATIONS, CINEMA, TRANQUILITY SPA AND MUCH MORE
SECRET LOCATION NEAR TUNBRIDGE WELLS, KENT
28TH – 30TH JULY 2016
TICKETS AVAILABLE NOW // WEEKEND TICKETS AT £89:
www.leefest.org/home
OFFICIAL TRAILER:
LeeFest Presents: The Neverland continues to take flight, with the magical land welcoming Circa Waves as Friday Night Headliners to its kingdom of kaleidoscopic dreams.
Emerging as indie-guitar music's brightest lights, Circa Waves have rapidly become one of the most acclaimed young bands in the country with their infectious sunshine-drenched indie-pop. Liverpool's favourite sons have enjoyed a huge 12 months which included the release of debut LP "Young Chasers" and a celebratory UK tour. Circa Waves will be making their UK Festival Headlining Debut at LeeFest Presents: The Neverland, as another exciting chapter in the band and festivals ascendancy unfolds.
Please also note that we have gathered all of the most popular onine casino games that been loved by players for many years now. You may click now to see the list.
Speaking about their landmark performance, Circa Waves frontman Kieran Shudall says:
"So excited to headline our first festival! It's going to be big. It's going to be awesome. The Neverland won't know what's hit it."
They'll be joined on the bill by art-rock pioneers Everything Everything whose critically acclaimed recent LP "Get To Heaven" drew plaudits from across the musical spectrum for its daring electronic edges and the distinctive vocal range of frontman Jonathan Higgins. With three revered albums in their back pocket, their set at LeeFest Presents: The Neverland will showcase one of the most creative names in modern British rock.
Hotly tipped, garage rockers VANT and cult drum and bass hero DJ Marky + MC GQ bring their unique styles to The Neverland, with the latter taking to the Electric Circus & Innersoul curated evening at Skull Ridge with A.Skills and more. Skull Ridge will also welcome acclaimed club night Percolate presenting an incredible evening in the Ridge with chameleonic DJ Midland and Horse Meat Disco amongst others. These all join an extensive lineup of new musical talent, continuing the revered LeeFest tradition of bringing through and championing the brightest names in music. Alongside Saturday night headliner Lianne La Havas, the weekend sees performances from Ghostpoet, Shura, Roots Manuva, The 2 Bears, Submotion Orchestra, Little Simz, Loyle Carner, Formation, Clean Cut Kid, Spring King and many more.
On joining the lineup, VANT said:
"Looking forward to LeeFest Presents: The Neverland, a festival like no other… Created and maintained by one dude and his ever expanding garden. Hopefully we will get to meet the mystery man himself. See you all in the sun (fingers crossed)!
The Neverland is an immersive, kaleidoscopic world of creativity, reckless abandon and the undiminished desire to never grow old. Across 3 Main Stages, 12 Music Venues and 6 Immersive Venues, The Neverland has it all, whether that be the pesky pirates patrolling Skull Ridge with its decadent Bomb Crater Rave, the lunatic lost boys in The Neverwoods Treehouse Stage or mesmerising mermaids glistening through Mermaids Lagoon with its decked real life beach party, there's a story and an experience around every corner of The Neverland.
From the no-nonsense Drag Queens to the notorious Glitter Wrestling The Neverland is filled to the brim with unimaginable exuberance. Regular Paint Fights, Secret Parties and Cabaret ensure the inhabitants of The Neverland are set for an immersive and unparalleled weekend of culture and partying, whilst in the Gaming Arcades islanders jump back to childhood through the glitchy viral screens..
A mecca of debauchery and darkness, Skull Ridge lies in the shadows of The Neverland with vivid Burlesque displays, Adult Cinema and seedy Casinos where dwellers take one last roll of the dice. Corruption and lawlessness are rife and mob rule is ever present in this unforgiving part of The Neverland.
Sanctuary awaits at the picturesque vistas of Mermaid's Lagoon where a sunshine-soaked lake is the centre piece and the beautiful people reside. Tropical beats come courtesy of The 2 Bears and DJ Luck & MC Neat and cocktails, swimming and massages await at the Holistic Hot Tubs and Tranquillity Spa.
Experience the unimaginable, dive into The Neverland and pursue the dream to never grow old.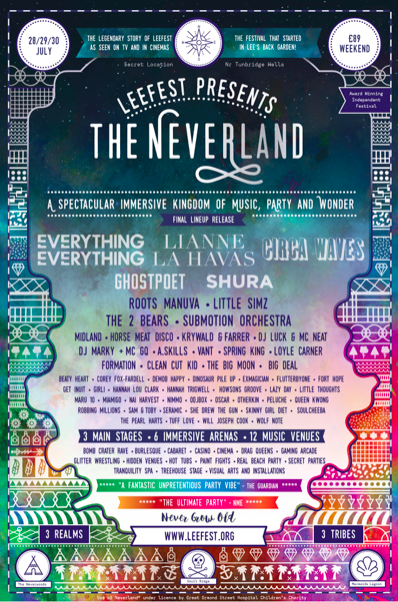 LEEFEST PRESENTS: THE NEVERLAND
THE NEVERWOODS // SKULL RIDGE // MERMAIDS LAGOON
12 MUSIC VENUES // 3 MAIN STAGES // 6 IMMERSIVE STAGES
LIANNE LA HAVAS // CIRCA WAVES
Plus Special Guests EVERYTHING EVERYTHING
GHOSTPOET // SHURA // ROOTS MANUVA // LITTLE SIMZ // THE 2 BEARS //
SUBMOTION ORCHESTRA // LOYLE CARNER // DJ LUCK & MC NEAT // SPRING KING // FORMATION //
CLEAN CUT KID // THE BIG MOON // BEATY HEART // BIG DEAL // COREY FOX-FARDELL // DEMOB HAPPY // DINOSAUR PILE-UP // FORT HOPE // QUEEN KWONG // DJ MARKY + MC GQ // GIRLI // NIMMO // OSCAR // SKINNY GIRL DIET // WILL JOSEPH COOK // TUFF LOVE // GET INUIT //
HANNAH LOU CLARK // MIAMIGO // OTHERKIN // PELUCHE // MIDLAND // EXMAGICIAN //
SHE DREW THE GUN // HANNAH TRIDWELL // LAZY DAY //
ROBBING MILLIONS // SERAMIC // THE PEARL HEARTS // WOLF NOTE //
HORSE MEAT DISCO // KRYWALD & FARRER // A.SKILLS
ADULT CINEMA // BEACH PARTIES // BOMB CRATER RAVE // BURLESQUE // CABARET // CASINO // CAMPFIRES // CIRCUS // COCKTAIL BARS // COMEDY // CRAFT MARKETS // CRAFT WORKSHOPS //
DANCE CLASSES // DRAG QUEENS // FOOD FIGHTS // GAMES & SPORTS //
GAMING ARCADES // GLITTER WRESTLING // HIDDEN VENUES // HOT TUBS //
INSTALLATIONS & GALLERIES // KIDS AREA // LAKE // LOCAL ALES // MAGIC //
MASSAGES // PAINT FIGHTS // SECRET PARTIES //SPOKEN WORD // STREET FOOD // TALKS & DEBATES // THEATRE // THERAPIES // TRANQUILITY SPA //
TREE HOUSE STAGE // WIDE GAMES // YOGA