RAM Records and More added to Nozstock 2014
Nozstock 2014 adds THE HEAVY, JAMES ZABIELA and FRICTION to the lineup
and hosts a RAM RECORDS TAKEOVER 
Nozstock: The Hidden Valley Festival
1st – 3rd August 2014
Bromyard, Herefordshire
Theme: Jurassic Farm 
The Heavy, Molotov Jukebox and Craig Charles to inject some funk and soul into Nozstock 2014
Dance stages to host James Zabiela, Andy C & GQ, Friction feat. Linguistics and Calyx &Teebee amongst others
DnB label RAM Records to takeover the Cubicles on Saturday nigh
New acts join Roots Manuva and The Skints for a massive three days of music

 
Nozstock: The Hidden Valley Festival look to make 2014 the best year yet as brassy rockers The Heavy, funky renaissance man Craig Charles and gypstep pioneers Molotov Jukebox join DnB heavyweight Friction (ft. Linguistics) on the Nozstock bill. They will be in good company this year as DnB trailblazer and master mixer Andy C will be returning to Nozstock, bringing with him his RAM Records crew for a Saturday Night Takeover of the Cubicles. The highly-regarded TC has also joined the lineup to further fulfill everyone's DnB needs and tech house behemoth James Zabiela will be headlining the Garden Stage on Saturday night for the first time, which will no doubt be music to many a Nozzer's ears!
These additions join a glittering lineup that includes hip-hop legend Roots Manuva who will be headlining the Orchard Stage and London dub rockers The Skints, set to go off with a bang on Friday night.
The RAM records Saturday Night Takeover of the Cubicles will be commanded by label head Andy C who will be joined by regular rhymer MC GQ. Support will come from the shining stars of the independent DnB label: energetic ground shakers Calyx & Teebee andA.D, devastating duo DC Breaks, prodigy producer Frankee and RAM legend Ray Rampage.
The Garden Stage will see a range of acts entertaining sun drenched dancers from the hybrid reggae/soul band By The Rivers and 10 piece ska band The Stiff Joints through to house DJ and venerable producer Sonny Wharton, as the darkness falls.

"…lack of commercialism is the very charm of the festival, along with its emphasis on local talent and green initiatives. Nozstock boasts a real laid-back vibe and is essentially the epitome of what a music festival originally set out to be."
The Speakeasy Bordello will also be returning to Nozstock 2014 for all your electro swing desires in an afterhours takeover of the comedy tent. The Twisted Burlesque DJs and the Electric Swing Ballroom will be joined by the eclectic Phat Tony, Hereford's foremost electro swing DJ Jitterbug, the classic soul and 50s rock'n'roll stylings of Edd Tipton, funk and urban soul maestro Mr Bliss and the decade-spanning mash-up master Sketch.
Entering its 16th year this summer, Nozstock is a family-run festival on a beautiful working farm in the heart of the Herefordshire countryside. The three-day festival offers a broad spectrum of live music, DJs, arts, comedy, workshops, cinema and performance theatre in a sublime setting, flowing from family-friendly by day, to party by night – over various locations across the farm.
Nozstock will take place on the 1st – 3rd August and will take festival-goers back in time to a prehistoric world of creepy creatures and fearsome beasts, as they enter the Jurassic Farm. 
Lineup so far announced
Roots Manuva /The Heavy/James Zabiela/The Skints/Molotov Jukebox/Craig Charles/Sonny Wharton/By The Rivers/Mr B The Gentleman Rhymer/The Stiff Joints/Mat Envy/DJ Hampsta/Bwalya/ The Twisted Burlesque DJs/Electric Swing Ballroom/Phat Tony/Jitterbug/Edd Tipton/Mr Bliss/Sketch
Andy C & MC GQ/Friction ft. Linguistics/TC/Calyx & Teebee and A.D/DC Breaks/Jubei/Stealth/Uncle Dugs/Joe Ford/Frankee/Ray Rampage/Amoss/Octo Pi/Despicable Youth/Scope/Koncept/Modify Perspective/Remidy MC/Trafic MC

The Heavy
We're very excited to announce that headlining our Sunday night are Bath-based four piece, The Heavy. Fans will recognise their sassy funk-rock anthem 'How You Like Me Now?', and they've got plenty more in their box of tricks for lucky Nozstockers this year. Acclaimed by NME for pioneering the credible reinvention of soul, the band bonded over vintage R&B before deciding to take up the musical mantle themselves, and what results is a mélange of styles which really can't be missed. Legend has it that they were the first band to be asked for an encore when performing live on David Letterman. Blurring the lines between old school soul and guitar-heavy indie rock, The Heavy will be sure to see the weekend out with a bang…
James Zabiela
Hailed by Rik Parkinson as a 'technical Jedi', James Zabiela's influential fusion of breakbeat and tech house has seen him soar through the ranks of DJ royalty. From humble beginnings – he got his first set of decks as a Christmas present from his dad at age 15, he has since played gigs across the globe, including a residency at Ibiza mega-club, Space. You're in safe hands with Zabiela – he's remixed the likes of Hot Chip to Boards of Canada, Royksopp to Radiohead. His debut album Sound in Motion was recorded live, in one take, which should give you some idea of the technical wizardry involved in his sets. He's gearing up for his takeover of the Garden Stage on Saturday night of this year's Nozstock – be prepared.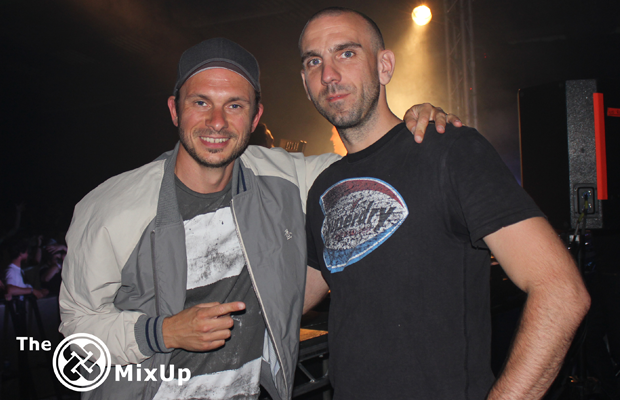 Andy C & MC GQ
We are proud and excited to announce that Andy "The Executioner" C is back! Without a doubt the undisputed king of drum & bass and owner of the mighty RAM Records, he never fails to blow the roof off the Cubicles with his outstanding DJ skills and unsurpassed track selection. Nozstock could claim Andy C as a resident, he's been a loyal supporter of, and performer at the festival year after year, and is the most requested DJ by Nozstockers everywhere. Get to the Cubicles early to secure your dancing pitch!
Friction ft. Linguistics
The Shogun Audio head honcho and host of Radio 1's drum & bass show returns to Nozstock! The multi award winning DJ Friction hasn't graced our decks since 2007 and it's a pleasure to have him back. Having risen to fame in the early 00s, he now holds court with DnB royalty, he has worked with some of the most influential labels in the scene and his memorable sets reflect that. We're in for a treat!
Molotov Jukebox
Described as "relentlessly fiery", which better artists to grace the Farm than genre-bending pioneers Molotov Jukebox. This six-piece band started out with gypsy and dubstep and have progressed into a mix of calypso, funk, ska, flamenco, samba, house, electro, pop, reggae and soul. As that's a bit of a mouthful, and considering all of their songs have a grounding in traditional gypsy music, crossed with a 'dirty beat', their fans have affectionately dubbed their sound 'Gypstep'. Molotov Jukebox are fronted by the accordion player, Natalia Tena of Harry Potter and Game of Thrones fame, and with their debut album, Carnival Flower soon to be released, they'll scorch the stage in a blaze of tuneful glory.
TC
There are few figures in electronic music who manage to combine commercial success with underground respectability, but TC manages it. It was the release of his debut album Evolution in 2007 that propelled the young producer to DnB's top table and earned him the titles of 'Breakthrough Producer' and 'Producer Of The Year' at the BBC Radio 1Xtra Drum & Bass Awards and nabbed him unprecedented radio support. 
Craig Charles Funk and Soul Show
Legend and icon, funk & soul DJ (among other titles), Craig Charles will be gracing the Garden Stage 'til the early hours bringing you a live mix of the very best in funk & soul, from classics to the newest releases. Well known for Craig's weekly broadcasts on BBC Radio 6 Music, the Funk & Soul Show is the longest-running show on the channel, and the soundtrack to many Saturday nights. Playing sets all over the world, Craig Charles has become internationally renowned for his incomparable DJ sets, passion for funk & soul, and ability on the decks.
Calyx & Teebee and A.D
Calyx & TeeBee's sets are always packed with integrity and energy, covering a range of styles and sounds. Boasting releases on a glittering array of DnB's most respected labels before coming together, 2006s The Quest was considered the landmark release of that year. However, it was the highly anticipated Anatomy LP that gained them massive support from the games big players, topping sales charts for months. Following its release, Calyx & TeeBee have embarked on non-stop tours across the globe, venturing into joint DJ sets featuring six decks and two mixers, with both DJs in action simultaneously.
Background
Fiercely independent, Nozstock caters for festival goers of all types, from the veteran festival aficionado through to those newly affected by the festival bug. It has evolved from a gathering of 50 friends into an intimate musical odyssey joining the dots between pop, ska, folk, funk, soul, indie, drum & bass, psytrance, house and a whole lot more. It is now firmly established as one of the country's leading boutique festivals.
The Hidden Valley has nine stages, many nooks and crannies and is set around a ramshackle Tudor farmhouse. The ORCHARD STAGE is set at the foot of a natural arena on the side of the gently sloping valley. Alongside the farmhouse is the GARDEN STAGE, which provides a more eclectic lineup, turning electronic by sundown whilst a converted cowshed, the CUBICLES, pushes out sub-thumping bass and dubstep through to the early hours.
The festival is truly home-grown and hand-made – quite literally in fact, with a small army of grass roots supporters helping to create the wonderfully themed environment each summer. Nozstock is the quintessentially British festival – a little bit eccentric, a lot of fun, full of wonder, enchantment… and a touch of magic. 
Tickets
ON SALE NOW AT – www.nozstock.com
Tier 2
Adult Weekend = £105
Teen Weekend = £80
All those aged under 17 must be accompanied by an adult aged over 21.
Location: The Farm, Rowden Paddocks, Bromyard, Herefordshire, HR7 4LS
Capacity: 5,000
www.nozstock.com
twitter.com/Nozstock
www.facebook.com/nozstockthehiddenvalley