The Prodigy Join EXIT Festival Line-Up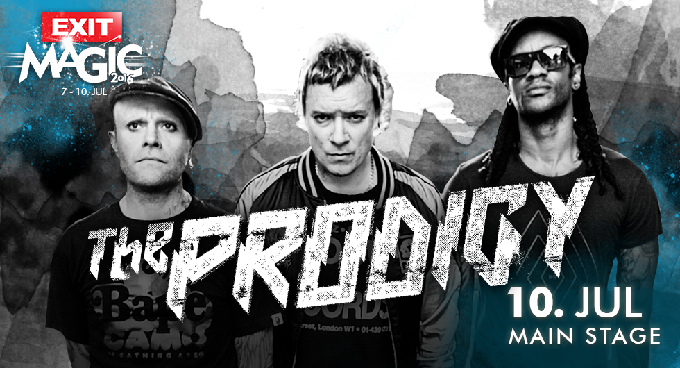 Plus Paradise Lost, At The Gates, Anti-Flag, Raised Fist, Toxic Holocaust also added
One of the most influential electronic bands in the world, The Prodigy, will perform at EXIT Festival on Sunday, 10 July! After the urgent poll to bring one of the most popular bands in the world to Serbia this summer, in which no less than 92% out of 25,000 people said "Yes" loud and clear, reached them, the band decided to brake deadlock and added a fourth consecutive tour date during the second week of July, and allowing them to perform, in their own words, on their favorite festival! Liam, Keith and Maxim personally addressed the audience: "Exit Warriors, you wanted us and we're coming! We are gathering at the Fortress, so be there! See you all! Peace"
THE PRODIGY – See you at EXIT
After 25 years, The Prodigy, together with their last studio album "The Day is My Enemy", found themselves for the sixth consecutive time in first place of UK's top selling albums chart, an accomplishment achieved by no other band, except the Beatles. During their last tour, The Prodigy performed on almost every great festival from Australia to America, including stadiums, arenas, and the largest concert venues from Japan to Argentina. Tireless, they visited over 30 countries. They still have 15 countries left until the end of their tour and on 10 July Serbia will be one of them!
New line-up additions are announced for one of the most loved stages at EXIT festival, extreme stage for extreme people, the place most furious hardcore, metal, and punk bands from around the world call home, Explosive Stage! The explosive army will be lead by the controversial punkers Anti-Flag, as well as one of the most powerful Swedish hardcore bands, Raised Fist. Metal giants, doom/gothic sound pioneers Paradise Lost will be headlining the stage on the third day, whereas the major spot for the final day of the festival is reserved for the pioneers of the Gothenburg metal scene, At The Gates. Explosive Stage will also be the gathering place of piledriving riffs brought by The Rumjacks, Born From Pain, Toxic Holocaust, Sear Bliss, Negura Bunget, and many more! The army flying the Rock@EXIT flag is now even stronger, including the previously announced The Vaccines, Bastille, Cock Sparrer, The Black Heart Rebellion, Tuber, Kensington, and many others!
Explosive Stage at EXIT 2016
Tickets & Travel Packages:
Join the EXIT Adventure – festival packages including tickets, flights, shuttle and camping have never been more affordable.
The Line-up for Exit Adventure is hotting up, so make sure to get your tickets and book your flights now! Exit Adventure Packages including tickets for Exit and Sea Dance festivals, round trip flights, shuttle and camps go from £399; Exit Package goes from £349 and Sea Dance Package including Sea Dance festival ticket, flights, shuttle and camp goes from £319.
Promo tickets for Exit Festival are available at the special price of £79+b/f
Exit Adventure promo tickets go for £99+b/f.
EXIT Adventure VIP Gold Ticket for £250.00 +b/f
EXIT Festival VIP Gold Ticket for £250.00 +b/f.
Promo Tickets to Exit Festival are available at www.exitfest.org/en/tickets. You can save up to 60% from the final ticket price in July. Accommodation and travel arrangements can be found at Exit's official tourist agency, ExitTrip's official website here: www.exittrip.org/en