2014 Top 5 Pop Songs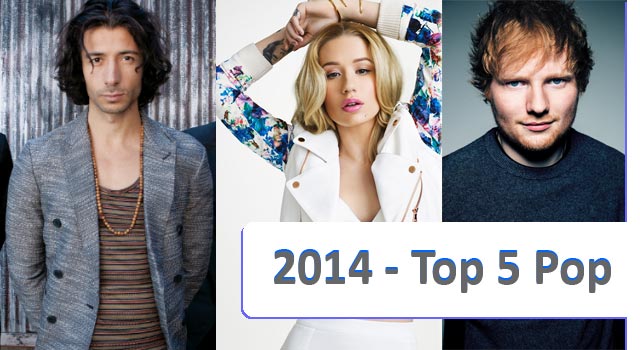 2014 is over and what a great year it was for music. During January, we will be looking back and counting down our 'top five everything'. We're starting off with our top five pop songs.  Our favourite songs that ruled the airwaves during 2014.  Check our list and let us know your thoughts below.
Notable mentions:
Happy – Pharrell Williams 
This was actually the biggest track of 2014, in the UK.  But since it was released in 2013 (and also the biggest single of 2013) and we were pretty much tired of hearing it by the end of 2013 it hasn't made our top 5.
All about that Bass – Meghan Trainor 
Meghan Trainor made a big impact in 2014 with her debut single.  Her vocal talent is undeniable but this song quickly starting jarring on me. Jenifer Lopez let us know it was "all about that bass" years ago hun – This has quickly became boring.

It's my birthday – Will.i.am feat Cody Wise
This is a pretty catchy song and another one that if you weren't hearing it on the radio, someone was singing it nearby. Will.i.am's best tune? probably not, but this is sure to be played for years to come at birthday parties around the world.  So close to being in our top 5 pop, but just short.

2014 Top Five Pop
5. Fancy – Iggy Azalea feat Charli XCX

Despite what you think of Iggy Azalea, you can't deny she had a huge 2014.  With at least three top 10 singles in the UK, Best breakthrough artist at the Aria awards and, though highly controversial, Iggy also walked away with Best Hip Hop/Rap album at the American Music Awards.  Iggy Azalea is our number 5 with arguably the biggest track of the summer . Fancy feat Charli XCX
4. Blank Space – Taylor Swift

Taylor Swift made a successful transition from country music starlet to full fledged pop star with her 2014 album release '1989'.  While the single 'Shake it off' was undeniably her biggest track of 2014 our favourite swift release was definitely 'Blank Space'.  Release towards the end of 2014, expect to keep hearing this played well into 2015.
3. Thinking out loud – Ed Sheeran

>What a year Sheeran had in 2014.  Not only did he have the biggest selling album in the UK with 'X' but his single 'Thinking out Loud' was also one of our favourite tracks of the year in any genre.
2. Rude – Magic

The little known Canadian group released one of the biggest, most fun and catchy tunes of the year.  A reggae/pop fusion up there with the best reggae/pop songs in recent memory, 'Rude' was enjoyed by 5 year olds to 50 year olds.  Possibly the years most trans-generational track of the year.
1. Chandelier – Sia

Sia has written and featured on some of the biggest tracks of the last few years but 2014 was her breakthrough year as a Star on her own.  What away to announce yourself.  Chandelier is a powerful pop that immediatley put Sia into the upper echelons on the pop world.  Chandelier is our pop song of the year.