Goats in Trees interview with Issy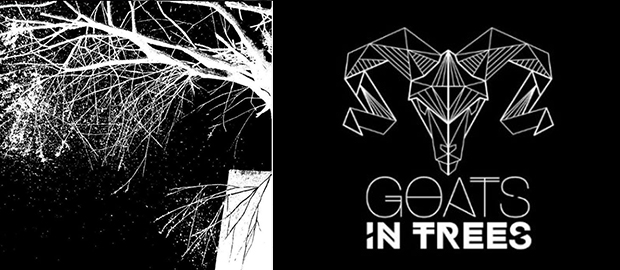 Goats in Trees are a new and upcoming four piece, indie rock band from the South West, England. Consisting of Dan Amery (Lead Singer), Henry Birt (Drummer/Songwriter), Billy Price (Guitarist) and Nathan Wiltshire (Bassist), the Bristol based quartet have already began their climb to the top of an increasingly long list of new, yet hugely promising emerging South West Indie bands. Their sound is a collision of euphoric noise, taking influence from every direction, including that of The Verve, Arctic Monkeys and DMA's which is evident upon hearing their intricate and diverse work.
Having already played in venues such as The Fleece, Bristol, which has seen hundreds of artists passing through on the brink of their musical careers (including huge household. names such as Oasis, Muse, Ed Sheeran and Coldplay), it doesn't seem like it will be long until Goats in Trees will have built up a firm and devoted fanbase. It is easy to imagine them playing venues up and down the country, ten time the size of venues such as The Fleece within the next five years.

'Don't Wait Around For Me' is Goats in Trees third self delivered single, released on Friday 11th October, 2019. It is a strong and unforgettable follow up from their two previous singles, 'The Abyss' and 'Tomorrow' which were released in the summer of last year. 'Don't Wait Around For Me' is a memorable four minute track; tied together by gravelly vocals and a tight drum beat, it leads into a huge catchy and explosive chorus that lingers in your head long after the first listen. The release of 'Don't Wait Around For Me' has been accompanied by acoustic B-side 'Dream (Live At The Fleece)' taken from a live recording at their latest headline gig in Bristol which is available for streaming alongside all of their other singles now.
'Don't Wait Around For Me' and 'Dream (Live At The Fleece)' are just a slight introduction to a massively vast catalogue of enthralling songs that present an already distinctive sound.

I spoke to Henry and Nathan (Drummer/Songwriter and Bassist) from Goats in Trees ahead of the release of their latest music. We discussed their musical influences, cereal, where they see themselves in five years time and their pets.

1. First of all, we'll get the most boring question out of the way. Where did you get the name 'Goats in Trees' from?
(H) It started when my Dad told me about these actual goats who live up trees in Greece – they eat macadamia nuts and poo them out for the farmers to collect them. He knew that I was looking for a name for the band and we thought, why not? Goats in Trees. It sticks in your head!

2. How would you describe your sound? What genre do you class yourself as?
(N) I think it's a mixture really ageing from the 70s Led Zeppelin sort of sound through the experimental 90s The Verve stuff and all to the current day! I'd say that our new songs are quite rocky, but still with a pop element.

3. You're a relatively new band so how much do you think your sound will develop/change in the future?
(H) It's a bit of an odd one because we're new but we're also not. When we started playing together, we didn't really have a sound, the first few years were just us trying to find it. However, I think over the past year we've started to hone in on a particular sound and vibe. Ever since Billy (Lead Guitarist) joined, this process has really sped up. In terms of writing, I feel it's been in waves due to my influences at the time. Personally I've seen it change recently on new songs compared to older ones but I find that exciting, it's not forced. However, we still have that sound which we feel is quite 'Goats in Trees.'
(N) From where we started back in the day to where we are now I think that we've changed our sound massively! However, don't think that it'll change hugely in the future, but I do feel that we've only just got started and we have a long way to go. I'd rather not get carried away with the future and enjoy the music that we're making now.

(N) From where we started back in the day to where we are now I think that we've changed our sound massively! However, don't think that it'll change hugely in the future, but I do feel that we've only just got started and we have a long way to go. I'd rather not get carried away with the future and enjoy the music that we're making now.

4. Who is in the band? Can you briefly describe each member?
Nathan – he's the heart of the band. Without him it wouldn't be the same both on and off of the stage. His impact on live performances is massive to us too. Dan – we've known Dan for years, it's great to have the connection with him of the singer and songwriters. He's taught me so much of what I know about music now.Henry – he's the great powerhouse of the band. He always strives to do really well, he's just. great.Billy – Billy is a great new addition to the band, bringing a great vibe. It's really refreshing for all of us to have him.

5. How did everyone in the band meet?
(N) We all went to school together. Me and Henry live literally next door to each other. It's funny actually because Billy was actually in our rival band at first as a drummer, and now he's part of our band!
(H) Yeah, it's a weird one! We've known Billy for years but not as a guitarist. He was actually one of the reasons why I started drumming, so it's funny it's sort of go full circle back.

6. You've recently released a new song, 'Don't Wait Around For Me', can you tell me a little bit about the writing and recording process?
(H) I wrote the song in late December/early January, so it's quite recent in terms of what usually happens in our releasing process. 'The Abyss' was recorded nearly two years after it was written, but this one just sort of came to me. It sounds cliche but I was wondering – Is this another song? Anyway, I then took it to the boys and we built it up with the riff and then Dan added a few little changes over time as we rehearsed it. The recording of it was really good actually, everything just came into place on that day. We then began to build it up and add more things to it. It just got better and everything just eventually fell into place. 7. If you could fast forward five years, where do you see yourself and the band?
(H) In an ideal world, I'd love to think that we'd have an album out. Touring and growing a fan base is hugely important to us, that's what hits me. I want people singing the songs we wrote on a normal day back to us. But then you really feel like you've given life to something, you know? Without that, any band is nothing.

8. Who are your main musical influences?
(H) It's nice because we all take influence from different things. For me, I'd say that it comes from 60's music, the obvious ones like The Beatles but also bands like Simon and Garfunkel. Also a bit of country music like Cash Denver and think this is definitely coming through more in some of our newer songs. Then also 90's music like Oasis, but more so 90's like The Verve with the psychedelic aspect honing back to the Beatles. Recently, I like Blossoms and DMA's. I also have to say that I love film soundtracks. I could go on for hours. Billy has more of the grunge aspect but also heavy 70's rock so like Clapton, Pink Floyd and Led Zeppelin, the obvious ones! Dan is also influenced by them but then also more modern rap like J Cole, which is yet to come through massively for us. For Nathan there's so many to choose from, he was brought up on bands like The Jam, U2 Dire Straits and Queen, but a lot of his bass lines have been influenced by bands like The Strokes, Blur and Arctic Monkeys.

9. You recently performed at the fleece in Bristol, can you tell me a little bit about this gig?
(H) It was a brilliant night, everyone seemed to have a great time and there was just a really good vibe. The new songs received an amazing reaction, as well as our cover of 'I will follow' by U2. I also sang on that night so on a personal level, it was great. For a live recording of one of those tracks to be released with 'Don't Wait Around For Me' is really nice.
(N) This was our third time playing there and so many big names have played that. venue from Status Quo, Muse, Oasis, and a few newer bands like Blossoms, Catfish And The Bottlemen. I feel like it's a massive honour to play there knowing all these bands have a passed through there. It gives means the boys a massive sense of achievement. It was so amazing to see people having a great time. When you see people singing your songs it gives you so many chills and makes me really love what I do. I could go on for hours about it.
FIVE RANDOM QUICKFIRE QUESTIONS
1. Milk or Cereal in the bowl first? (H) Cereal first, you must be mad otherwise. (N) Cereal, obviously.
2. If you were a super-hero, what would your powers be?
(H) To be able to read people's mind. I'm an overthinker, so it would be nice to know what people are actually thinking.(N). Always wanted to be Captain America, me. If I could get transformed into a 6ft hunk that'd be lovely.
3. Do you have any pets? Tell me about them!
(H) I used to have a rabbit but now I'm left with two fish. We. used to have three, but then one ate one. Mental scenes. (N) I have a cute dog named Sid, but he doesn't like me at all. Sad times.
4. When was the last time you were late for something?
(H). Everyday. I. can't hack it.(N) I'm usually quite punctual, however, Henry's always late for EVERYTHING.
5. What is one item you could NEVER live without?(H) I would say the classic voice memos to record on, but If I'm being honest, hair wax. (N) A lighter. Everyone's always asking for one so I just carry it to save the embarrassment of "nah sorry mate, I left it at home" when someone asks you for a light. 'Don't Wait Around For Me' by Goats In Trees is now available to listen to on all major streaming platforms; as well as their acoustic b-side, 'Dream'.

You can catch Goats In Trees at their next show supporting The Clause on the 6th December at The Mothers Ruin in Bristol. Tickets are available now from here. https://www.skiddle.com/whats-on/Bristol/MOTHERS-RUIN/This-Feeling—Bristol/13631861/

You can also stay up to date with everything Goats In Trees related, including more live dates and new music, by following their Instagram here. https://www.instagram.com/officialgoatsintrees/?hl=en