Interview with Andy C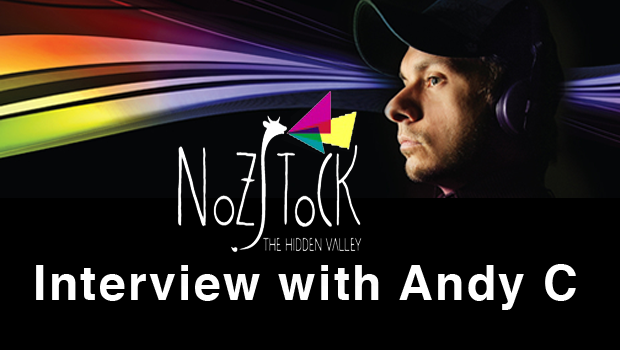 Andy C  "The Executioner" is one of the few household names in Drum & Bass! He is know for such tracks as Body rock, Quest, Skirmish and Roll on. He first got into the dance music scene back in the late 80's after big sis took him under her wing and out to free parties.
He set up RAM Records back in 1992 with close friend Ant Miles and now has signed over 20 artists including Sub Focus and Chase and Status.
Make sure you don't miss the Sub-labels: Frequency, High Lite Recordings, Killerhertz and Liftin' Spirit Records
Here are a few of the questions we asked him.
TMU: Starting off nice and simple, a one word answer will do. Are you iphone or android?
Andy C: Iphone!
TMU: …and the interview has begun! We see you're playing at Nozstock again this year, how long have you been playing there?
Andy C:  I've playing Nozstock quite a few times now. Been going down with the guys, enjoying the vibe, it's a wicked festival. We're gonna take RAM in there this year, take over the area for a night which is gonna be great. I've been going down there for a few years and it's growing, really growing. It started off as a really boutique festival it seems to get bigger and the vibes get better every year, so yeah, it's a pleasure to go to.
TMU:  We know Nozstock is a pro environment.  How green would you say you are?
Andy C: How green I go basically depends on how much alcohol I've had: that's my green status. I know they've got a good mentality down there but all them festivals out there have you know, over the west side of the country.
One time I went to Nozstock I ran out of petrol on the way. That's how green I am (laughs). I ran out down a country lane and basically pulled into this driveway of somebody's house and knock on the door and ask them if they had any fuel. Anyway, turns out there were two brothers in there, they're regulars who couldn't get tickets for the festival. So I'm like, well listen guys if you've got any fuel man jump in the car and come down with me. So they went to their shed and found a little lawn mower fuel canister. We put that in my car and managed to limp to the festival. I took them down there with me and they ended up getting back-stage passes and they raved the night away. It was a good vibe man. I guess it's kind of unusual somebody to knock on your door at about one o'clock in the morning asking for some fuel, but they was well up for it.
TMU: So what would you say is the big difference between playing a nightclub to a festival?
Andy C: At a night club the set-up is always there, the lighting rigs, the stage, the booth, the flashy bars, seating areas, there all there. And that's really good. We can enjoy them pretty much three quarters of the year in this country coz it's always f'ing raining. Everyone goes inside the nightclub and has a good time and they're great. But I LOVE festival season when it comes along, rain or shine, I'm in. Preferably shine. But there is just something about that whole unifying feeling of being either in a field or camping or basically in a big barn where people have chucked down a sound system and everybody gets on a vibe. It's a beautiful thing. I was at Glastonbury the week before last and that was just amazing. All the festivals, I just love the festival vibe and hanging out with people. This is where we started with Red One. Scotty, we ran the label together;  started off by putting on parties in barns in fields. That's one of my earliest memories of ever raving, going into a barn in a field and putting an amplifier down in some cow shit and turning it on and having a rave. That was the whole vibe. Nozstock seems to have a similar mentality. I love that.
TMU: We heard that you've just come back from your Asian tour, how was that?
Andy C: It was amazing and mind-blowing. It's such a beautiful part of the world in terms of the general feeling of the people and the love that you get back and it changes your state of mind. It's very hectic over there but at the same time it's got a real calming influence. Everybody's so very different in nature to our part of the world. I just found it really calming and beautiful.
All the parties were really really busy. Busier than what I thought coz it's the first Asian tour I've done. I've been in and out of Asia to do one-off shows but it was the first tour. I think I did eight countries and 8 shows in ten days. My agent and my manager, when they were getting the tour together they go 'oh you're gonna go to Japan, you're gonna go to Seoul, you're gonna go to Singapore, Kuala Lumpur. And I was like, guys this isn't in one country this is a continent you're talking about! There's like a good six hours between each of these places but it ended up being phenomenal. I ended up on the Great Wall of China which was one of the best one-offs gigs I'm gonna get to do. So, yeah it was a fantastic two weeks.  
TMU:  So which country was the best for you? China, Singapore, Bangkok?
Andy C:  They were all really good y'know. I had a fantastic time in Japan with all my friends at Womb (Tokyo). It was their birthday party and we had a great time. Singapore was great, Kuala Lumpur, Bangkok, I mean the Great Wall. Taiwan was really really good and Korea, beautiful people over there. I mean what can I say, I'm really lucky, it's a really luck thing. I play drum and bass, always have done, always will do and to get to go tour all these places and play the music and see the response of the people is just fantastic.
TMU:  Well it's definitely not just down to luck; you've definitely earned the responses you've received. So, who would you say are your biggest influences outside of music?
Andy C:  Ummm, outside of music, I don't know really. I guess my biggest influence outside of music is the fantastic support of my fans; they're always up for me going away for weeks on end.
TMU: Have you got any brothers or sisters?
Andy C:  Yeah, my sister was a huge influence, taking me out to the free parties when I was younger. She's my older sister so I always wanted to be in her gang basically and she was pretty cool. She wasn't one of these older sisters whose like 'no way you're not coming out with me'. She was taking me out to raves when I was 13. It was pretty cool man. I take influence from a whole host of things but generally I gravitate towards positivity. I like that. So, any time I see any positivity I find than an influence. I Love nice vibes.
TMU: So how would you describe your show visually and musically?
Andy C:  Well visually, it's basically me jumping around like an idiot behind three turntables, so there's yours aesthetic (laughs). Musically I mean it's all guns blazing, let's not mess around. I'm there to have a party as much as everybody else. It's a great thing. You travel all that way in the car, whether you're going to Nozstock which is, for me, a bloody long way (laughs).  You get there and you get in the barn and you get the music on and it's just all go. There's so much fantastic music out there at the moment, generally the sets I prefer to play at the moment are around three to four hours.
TMU: So, any good tunes we should be looking out for? What are your top tips at the moment?
Andy C: We just put out the Hamilton (SCHEMA) EP on RAM which is a great EP.  We've got Wilkinson's album coming out which is just mind-blowing. We've got new stuff from Chords, Rene LaVice, Mind Vortex. The Program label is going nuts as well; we just made a couple of signings for that.
The top tips are ramrecords.com. You'll be able to check out everything. Go to Sound Cloud. I'm on Sound Cloud as well as RAM so andyc_ram is my Sound Cloud, the same as my Twitter.
TMU:  Do you have any pet peeves?

Andy C: Pet peeves are simple from where I'm playing, it is that I'm probably one of the only guys left that uses turn tables. Nobody services their turn tables anymore. I tend to turn up and its like the guys have just grabbed a 1210 from out the cupboard that's been left there for 15 years and they've blown the dust off it. It's not that they don't work, its the connections at the back funnily enough. Them Technics are built like tanks, they are one of the most incredible bits of engineering ever! But the only thing that goes wrong is the phono connectors at the back and that is my pet peeve right about now.
TMU: Do they then just cut out and people will think that's you?
Andy C: Exactly, yeah! I played Glastonbury the other week and I played to about 80,000 people and a couple of times the tune goes to drop and the whole thing would cut out. I mean it's kind of embarrassing when you do it in a small club but if you're doing it to a crowd that size and they're all expecting a drop it's a little bit embarrassing (laughs). "
TMU:  What's the best way to handle that then?
Andy C: You've got to try and style it out. Thankfully I'm kind of used to trying to cover up them issues now so it's just a quick switch. As I use three turn tables I've generally always got a tune running on one of them anyway so it just case of chucking the other fader up quickly. Somebody in the crowd might be like 'well that was a bit of a weird mix' but you've got to keep the music going haven't ya.
TMU: It's good to clear that up. So if we ever hear a mix that's a bit usual and comes straight in chances are that it's the turntable.
Andy C: Listen, it's never gonna be me, it's always the tools (laughs).
TMU:  We know you'll be playing Nozstock but where else can we catch you over the summer?
Andy C: Go to andy.cc and the events listings are on there. It's a CRAZY summer; I think there's 30 odd festivals. There's obviously club shows. There's America, there's all sorts. So far it's the best summer I've had.
I did in Australia in January and I'm going back out there for a Stereophonic festival in November. Its relentless, its constant but its good. I'm loving it. Festival season has been great so far and also I'm back in the studio in my down time in the week working on some new material which I'm hoping to get out in the autumn.
TMU: We will definitely keep an eye out! Thanks for the chat. I look forwarded to seeing you smash it at Nozstock and Global. I'll be reporting for The MixUp at those events.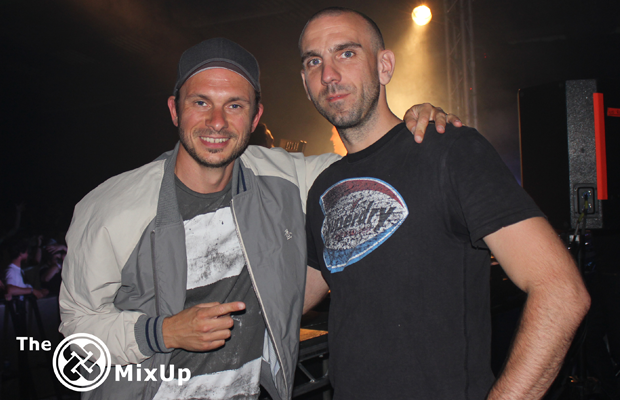 Check out Andy C site at www.andyc.cc