Predictions: 2014, the Year Ahead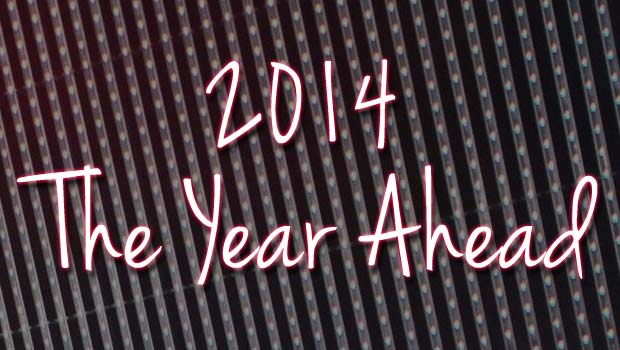 Kanye drops another genre defining album
Most have come to the conclusion that Kanye West likes the spotlight. With very few if any "primetime" radio singles off his last set Yeezus, that means Kanye hasn't had the airtime he deserves since 2012's Cruel Summer. Even Cruel Summer was more a joint effort from Kanye and his G.O.O.D Music team.  We'll have to go back to 2010s My Dark Twisted Fantasy for the last time Kanye had the sine all to himself (Watch the Throne not included since it was another collabo effort with Jay-Z).
That's just too long for Kanye west and although 2013s set Yeezus was critically acclaimed there was a lot of the general public and fans who just didn't seem to get.  Kanye West will want to make it as clear in our minds that it is in his he is number one.  We expect him to bring out an album as commercially tasteful as My Dark Twisted Fantasy but take it again to a new level, leaving no doubt in anyone's mind about his status, though there will always be haters.

Diddy maintains his spot as Hip Hop top earner
Whatever your opinion of Diddy one thing we all agree on is he knows how to make money.  It seems the money he makes from Ciroc Vodka has only wet his appetite for more of the lucrative beverages market. Diddy has recently inked a 50/50 joint venture deal with drink giant Diageo for the high end tequila brand DeLeon. With this new deal, along with all Diddy's other business ventures including the ever growing Ciroc brand – Oh and did we mention the new cable network, Revolt TV he has also recently launched. You can make a safe bet Diddy will be number one on the Forbes Hip Hop list for 2014.
Electronic Dance Music (EDM) including House music to go from strength to strength
During the latter half of 2013 EDM really exploded onto the pop scene.  With several top ten singles including number ones from Storm Queen, Dislosure and Martin Garrix, we expect to see this rise continue and influence the pop scene even more.  David Guetta, Calvin Harris Afrojack and co already seem to have the hip hop/R&B world eating out of theur palm and there seems no let up in sight.  Personally we're enjoying what dance music has morphed into, with its heavy hip hop and dub-step influenced base lines and riffs.  The club scene, particularly in Vegas will never be the same again 🙂

Detox will be given a release date but not end up being released in 2014
I'm going to be frank about Detox.  It's no longer relevant.  I no longer care for Dr Dre's Detox project (YEAH I SAID IT).  I envisage, as with the last ten or so years that Dr Dre will give us the quarter he expects to release the project but then we won't see it and we won't get a decent reason why.
My personal opinion is it no longer matters.  The generation who cared have grown up, got kids and moved on to more mature affairs than gangster, weed smoking shenanigans (at least we like to hope).  I hope the Beats brand keeps Dre to busy or at the very least he renames any future album as the Detox project has become an on-going joke.
Nas and Lupe Fiasco drop new albums.
Two of the hip hops most talented and honest emcees are due to release albums this year.  That can only mean one thing – some Hip Hop home truths.  I would love to hear Nas add to the sentiment started by Macklemore & Ryan Lewis in Same Song or Lupe address some of the issues in his native Chicago including the beef with Chief Keef.  Hip hop needs these two emcees now more than ever – lets just hope they get the marketing push they deserve.