Wireless Festival 2014: A tale of two cities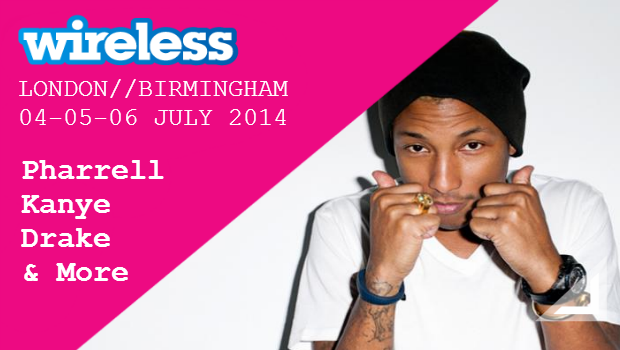 Wireless is back celebrating its 10th successive year.
And after 10 years in London, Live Nation (the event organisers) have opted for a two city system, much in the same way as the Leed/Reading festival works.
Wireless will not only be returning to London but also making its debut in Birmingham.
That's right for the first time Wireless Festival will find be headed to Birmingham's Perry Park.
In London we will see Wireless at a new venue, this year being held at Finsbury park.
…And being that all special 10th year, the team behind Wireless have pulled out all the stops to get an amazing line up. This year will feature headliners Kanye West, Drake, Bruno Mars and include special guests Outkast, Pharrell Williams and Rudimental. With the likes of Wiz Khalifa and Iggy Azalea, Ellie Goulding, John Newman as well as hip hop legends Salt n Pepa – Wireless Festival 2014 looks set to be the biggest and best yet.
So when does this all go down? Wireless festival will be taking place simultaneously across two cities, London and Birmingham on 4th, 5th and 6th July. The London event will be held at Finsbury park and the Birmingham event will be held at Perry Park.
All day tickets for London will cost £71.50 (£65.00 plus a £6.50 booking fee per ticket)
The is an early bird offer for Birmingham day tickets, which will cost £68.75 (£62.50 plus a £6.25 booking fee per ticket). This offer will is and may be removed at any time at the event organisers discretion.
Three-day tickets will be sold for the Birmingham event ONLY and cost £176.20 (£160.00 plus a £16.20 booking fee per (three-day) ticket).
Tickets will be available to purchase from Friday January 31st from the official Wireless Festival website.
For more information and to purchase tickets, including VIP packages please visit the Wireless Festival website.
The Mixup will be keeping you upto date with all things Wireless in the run up to the UK's biggest Urban festival. Plus stay connected for an opportunity to win a pair of tickets to the event.