ZooNation's – Some like it Hip Hop – UK Tour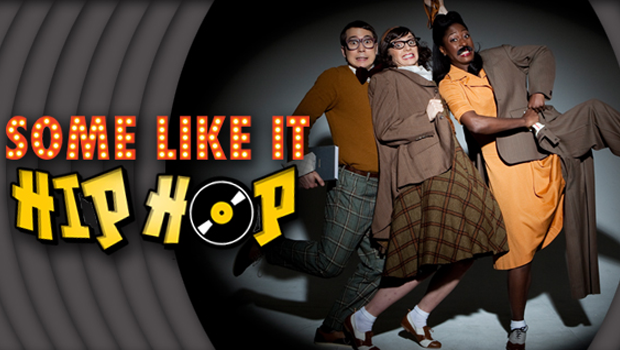 Zoo Nation's  "Some Like it Hip Hop" stops off at Manchester this weekend (20 Oct 12), after its critical and commercial success at the Peacock Theatre in London.
Some Like It Hip Hop, written by Kate Prince and Felix Harrison and directed by Kate Prince, is ZooNation's first full length production since the award-winning West End show, Into the Hoods.
Some Like It Hip Hop is a story of love, mistaken identity and revolution, in a city where books are banned, and where women are kept subservient to men.  The story revolves around two central female characters, Jo-Jo and Kerri.  When they are discovered breaking the rules of the city, they are thrown out.  They decide they have only one option – to return to the city dressed as men.  It doesn't take long for the two women to prove their worth, and it also doesn't take long for Jo-Jo to fall in love with Simeon, the only educated man in the city.  If only she wasn't wearing a moustache. . . It takes all their efforts to maintain their disguise, find love, and change the world.
Influenced by themes from the classic movie Some Like It Hot, the hit US TV series Mad Men, and Shakespeare's Twelfth Night, a complicated comical tale of love, mistaken identity, cross-dressing, gender stereo-types and revolution are played out in ZooNation's trademark style of Hip Hop, comedy and physical theatre.
Some Like It Hip Hop re-unites many of the core creative team and cast behind Into the Hoods, with an original live score written by DJ Walde, Josh Cohen and Kate Prince, choreography by Kate Prince, Tommy Franzen and Carrie-Anne Ingrouille, and starring Teneisha Bonner (Into the Hoods, StreetDance 3D, Insane in the Brain, Shoes),Tommy Franzen (So You Think You Can Dance, Insane in the Brain, Blaze) and Lizzie Gough (So You Think You Can Dance, Blaze).
Being a huge fan of "Into The Hoods" I was excited when "Some Like It Hip Hop" was announced for a second run at the Peacock Theatre.  Having missed it the first time round I quickly got hold of some tickets and took the short twenty minute walk from the office to where the show was being held.
On arrival the venue was bristling with excited viewers of all ages, from 7 to 70.  Many reviews had already billed this as the ultimate family theatre show and I was about to see why.
From the opening scene (or should I say beat) you get hooked in.  The story unfolds through a narrator, tightly choreographed dances, facial expression, some acting and of course music.  There is loads of well-produced and original music.  Sung, rapped or just an instrumental you will find yourself swaying along more often than not.
While the story is rather predictable, one of the strengths of the show lies in the stories simplicity.  Firstly, this allows the story to be told through the dance more, secondly it allows the show to suit a wider a range and in my opinion create one of the best new family shows I have seen in the theatre in the last few years.
The balance of humour, I can only compare to a classic Disney animation, where without being crude there are bits of humour in there that adults are likely to get more than kids.  But equally there are enough playful jokes kids will love and even more that all ages will share.
A production of the highest order when it comes to entertainment, Some Like It Hip Hop really needs to be seen to fully appreciate just how entertaining theatre can be.
With crowd participation in one or two dance scenes, everybody in the theatre is likely to be up on their feet swaying and joining in.
Emotional, funny, well-paced and family friendly, Some like it Hip Hop really isn't just a great family show. Some Like it Hip Hop is simple just a great show.
A show you don't want to end, but when it does, keeps you smiling and humming songs for a quite some time.
5/5
Some Like it Hip Hop is touring the UK starting with Manchester this weekend. See below for a full timetable:
Thursday 18th October – Saturday 20th October
Lowry, Manchester
Tuesday 23rd October – Wednesday 24th October
Truro Hall, Cornwall
Friday 26th October – Saturday 27th October
Marlowe Theatre, Canterbury
Tuesday 30th October- Wednesday 31st October
G Live, Guildford
Tuesday 6th November – Wednesday 7th November
Festival Theatre, Edinburgh
Friday 9th November – Saturday 10th November
Alhambra, Bradford
Tuesday 13th November- Wednesday 14th November
Curve, Leicester
Friday 16th November
Royal Concert Hall, Nottingham
Tuesday 20th November – Wednesday 21st November
The Grand Theatre, Wolverhampton